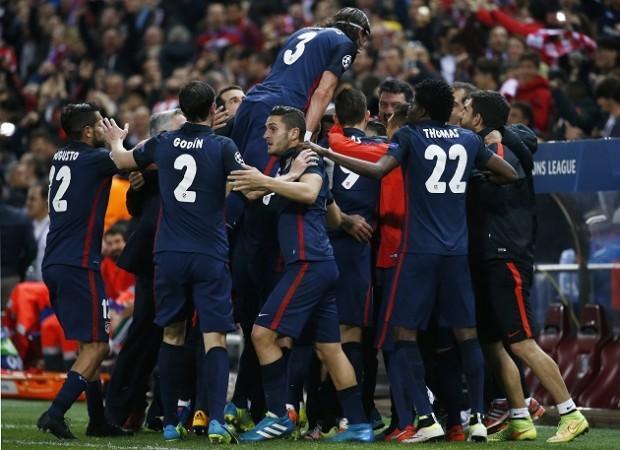 The curse of a team never being able to defend their title in the Champions League era remains. Barcelona, taking a 2-1 lead into the second leg of the Champions League quarterfinals, were stunned by Atletico Madrid 2-0, knocking the holders out of the competition in the process.
After a controversial 2-1 victory in the first leg, smart money would have been on Barca doing enough to see off the Atletico challenge, but the home team, led by Antoine Griezmann, had other ideas, playing some outstanding football – be that in defence or offence – to hand Luis Enrique's men their third defeat in four matches in all competitions and an early ticket out of the Champions League.
Lionel Messi, Luis Suarez and Neymar were quite ineffective for Barcelona as the ridiculously well-drilled Atletico defence kept them nullified, with Griezmann popping up at the other end to head one home, before slotting in a penalty to take his side through to the semifinals.
The first goal was a thing of beauty, created by Saul Nigez, who played in a delightful cross from the right with the outside of his left foot for Griezmann to head home perfectly. As Barcelona went in search of the goal that would put them in the semifinals, gaps opened up at the other end, and Filipe Luiz, the Atletico left-back, went on a marauding run, before forcing Andres Iniesta to stick his hand out and handle the ball in the penalty area.
Iniesta was lucky not to see red for the blatant handball, but it mattered not as Griezmann struck the ball to Marc Andre Ter Stegen's left to make kit 2-0 and 3-2 on aggregate in the 88th minute. Barcelona would have still been able to take the game into extra time had they been able to find a late goal, but a combination of luck and poor finishing prevented that from happening.
The outgoing European champions should have really had a penalty when Gabri handled the ball right on the edge of the penalty area, with replays showing it was, perhaps, a touch inside. The referee, though, deemed it to be outside the box and Messi fired that freekick into the wind, to go with Barcelona's hopes of defending their Champions League title.