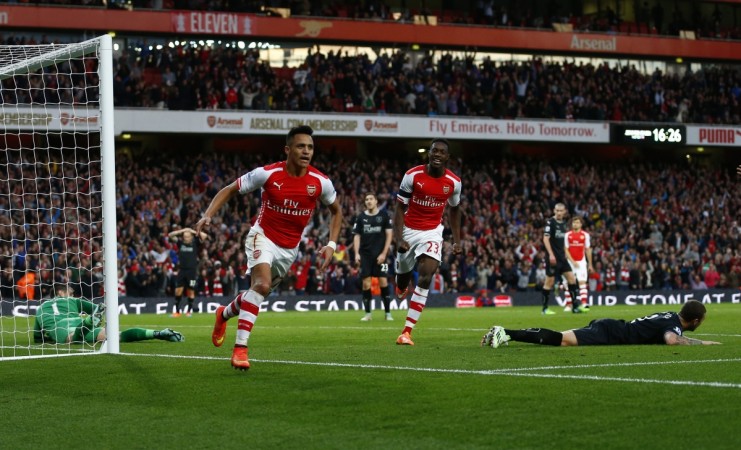 Arsenal climbed to fourth place in the Premier League, following a 3-0 win over Burnley at the Emirates on Saturday.
A second-half brace from Alexis Sanchez, coupled with a strike from Calum Chambers, proved too much for the struggling Burnley, who were not even able to get a consolation goal.
Despite dominating the early stages of the game, the Gunners only created their first real chance in the 12th minute when Danny Welbeck's shot, following a pass from Sanzhez, was cleared by Kieran Tripper.
The Gunners had another great chance in the 25th minute when Oxlade-Chamberlain, after receiving a pass from Sanchez, pulled the ball back for Santi Cazorla. However, the move came to northing as the Spaniard fired his effort wide of target.
Sanchez then tested Heaton with a good effort at the half-hour mark, before narrowly missing the target with a curling shot five minutes later.
With just a few minutes remaining in the first half, Sanchez again came close to giving Arsenal the lead but Heaton did well to block the Chilean's effort with his body.
After the break, the Clarets got a good opportunity to break the deadlock in the 50th minute but Danny Ings failed to take advantage of a momentary confusion between Wojciech Szczesny and Per Mertesacker.
The Gunners nearly took the lead in the 66th minute when Cazorla, after receiving a squared ball from Chambers, fired at goal. However, Arsenal were denied by some excellent last-ditch defending from Michael Duff, who made a block on the line to keep the scores level.
However, Duff's heroics proved to be in vain moments later as the Gunners broke the deadlock in the 69th minute through Sanchez, who powered a header past Heaton, after connecting with a cross from Chambers.
Things went from bad to worse for the Clarets as the Gunners doubled their lead a couple of minutes later through Chambers, who managed to prod the ball home from the rebound after Welbeck's initial effort.
Substitutes Theo Walcott and Lukas Podolski went close in the last 10 minutes, with Heaton making smart saves off both, while the German also struck the post.
Finally, Sanchez added the icing on the cake by getting his second goal of the night, via a close range effort following a cross from Kieran Gibbs.

Arsenal vs Burnley (3-0) Full Highlights 01/11... by rubin7190