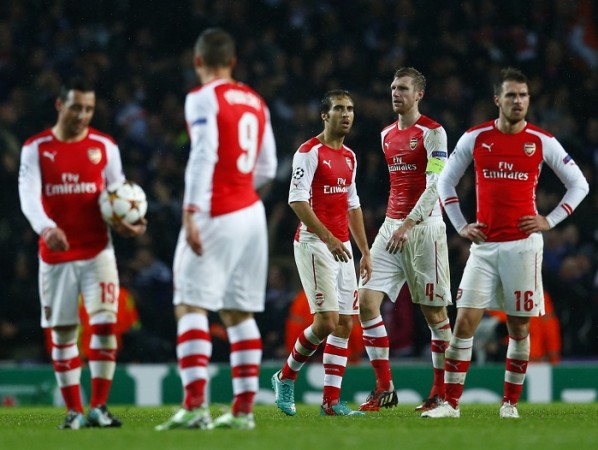 Arsenal pulled off a remarkable come-from-behind victory over Anderlecht two weeks ago in the Champions League, and when everything looked hunky dory for Arsene Wenger's men in the reverse fixture at the Emirates, Anderlecht decided to stage their own stunning comeback, a comeback, which put in perspective, is perhaps more noteworthy.
The Gunners have time and again shown their fallacies at the back, unable to quell an attacking storm when it comes, while leaving themselves too open for the counter-attack.
However, what happened at the Emirates on Tuesday requires a whole new description. It was shambolic and "tactically clueless" as one former Arsenal player said, and the result of Arsenal's naivety, yet again, was the home side gifting away a three-goal lead by telling their opponents "we don't feel like picking up three points today, why don't you take one" and thus allowing Anderlecht to return to Belgium with a 3-3 draw.
Arsenal were in cruise mode by halftime, with Mikel Arteta and Alexis Sanchez, yes that man again, scoring within the half hour to give the home team a 2-0 lead.
Even if the pattern of play was not all Arsenal, with Anderlecht threatening time and again on the counter-attack, Wenger's men took the lead on 25 minutes with Arteta slotting home from the penalty spot.
Everything about Arsenal seems to go through Sanchez nowadays and a pass from the Chile international saw Danny Welbeck felled by Chancel Mbemba, with the referee pointing to the spot, with the skipper then making no mistake.
Four minutes later, Arsenal were 2-0 ahead as Sanchez pounced on his own rebound, after the ball fell to him via a freekick which hit the wall, with the former Barcelona man volleying home brilliantly.
The game looked like it was put to bed on 58 minutes when Alex Oxlade-Chamberlain fired a shot into the bottom corner after making a nice run down the left.
However, the real drama was only just beginning as Arsenal's failings at the back came to the fore, and how.
Anthony Van De Borre had a tap-in on 61 minutes after a cross from Andy Kawaya to make it 3-1, before Van Den Borre stepped up to make it 3-2 from the spot in the 73rd minute, after Nacho Monreal impeded Aleksandar Mitrovic.
Wenger was shaking his head wondering what on earth was going on by then, and it only got worse as Mitrovic completed the comeback, heading home a cross from Andy Najar, the player who scored the opener in the first leg, before Arsenal fired in two goals in the dying moments to steal a win.
There were no such memories this time around for Arsenal, though; only bitter disappointment.
First place in Group D now looks beyond Arsenal, with Borussia Dortmund beating Galatasaray 4-1 and with it taking a five-point lead with just two games remaining.
The Gunners, though, are still in pole position to go through second in the group, with the English Premier League side garnering seven points from four matches, five more than Anderlecht, and six ahead of Galatasaray.