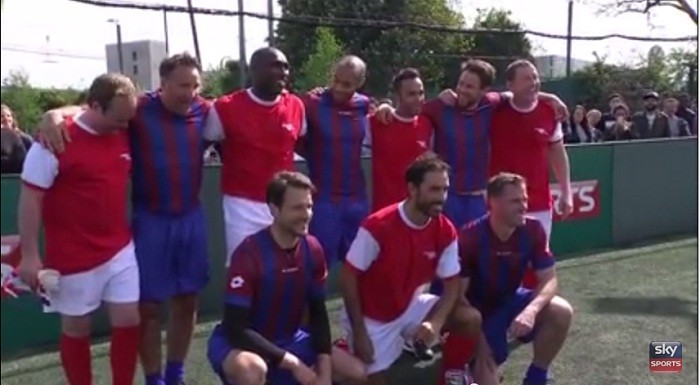 Thierry Henry vs Lewis Hamilton – now there is a battle worth watching between two supremely gifted athletes, albeit from different sports. Henry and Hamilton did go head-to-head, though, in a five-a-side football match between Arsenal legends and Sky Sports experts on Monday.
Hamilton, a die-hard Gooner, played for the Arsenal side, while Henry, Arsenal's record goalscorer, decked up for the Sky Sports team, who won on penalties after the match ended 5-5 in normal time.
With one of football's most recognised voices in Martin Tyler providing commentary, Hamilton showed he just might have been able to make a career in football had he not gone the Formula One way, showing some neat skills alongside the likes of Robert Pires, Ray Parlour and Sol Campbell, who were also part of the Arsenal side.
A pinpoint pass to Pires for a tap-in was perhaps Hamilton's highlight on the day, while he also put away his penalty in the shootout.
Henry had the likes of Jamie Redknapp and Jamie Carragher, amongst a couple more big names, for company, and while plenty of eyes were on Hamilton, it was Henry who was the main man again, showing his tremendous skills on the football.
Henry, Pires and Redknapp were later seen taking in the Arsenal vs Swansea City action on Monday night in the English Premier League, and while the former two, in particular, would not have been too happy with the result, as the Welsh side came away with a smash-and-grab 1-0 victory, they would have certainly enjoyed themselves out on the pitch earlier on.
Hamilton looked like he had plenty of fun too, and the Briton will now look to take the good vibes from this five-a-side match into the rest of his F1 season, where he is defending his driver's championship title.