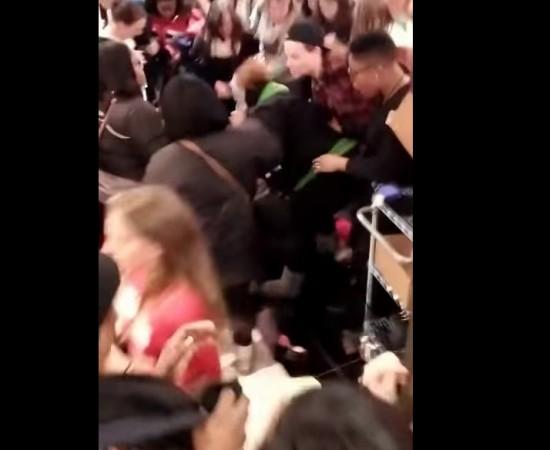 A video of a woman fighting over lingerie in the UK branch of Victoria's Secret during the Black Friday 2014 shopping craze, has gone viral on YouTube.
Two women are seen tussling to grab a bargain over what has been described as underwear although no exact details are available. The amateur video was posted on YouTube, stating that the altercation took place at a Victoria's Secret store somewhere in the UK, but did not specify the exact location.
The less-than-a-minute footage shows a black woman in black and green clothes attack a white woman before the scene suddenly becomes chaotic inside the store. The white woman is knocked to the floor as a staff member quickly interferes to separate the two.
The video has already received more than 1.2 million hits a day after the incident occurred.
Watch the video below:
This comes as other reports from the UK are doing the rounds that chaos and multiple fights broke out across the country in different stores as customers battled for the latest bargains. In stores such as Tesco and Asda in London, police had to intervene as frenzy grew over reported brawls and fights.
More than 12 police officers were seen in Tesco in Glover Drive, Upper Edmonton, as tensions were reported between frustrated shoppers who had lined up in huge numbers as the popular American holiday is increasingly making a great impact in the UK.
Greater Manchester Police who tweeted "Keep calm people!" arrested two people following some other fights during the Black Friday sales.