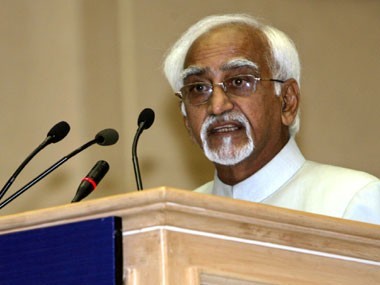 The Vice President Poll began Tuesday morning, with all eyes on UPA nominee Hamid Ansari who is set for a clear win against NDA's Jaswant Singh for the esteemed post.
The voting, which commenced around 10 am, is expected to see Ansari secure his second term as Vice President, with major support pooling from UPA, Congress, Samajwadi Party, Janata Dal Secular and several other parties. West Bengal Chief Minister Mamata Banerjee-led Trinamool Congress is also expected to back Ansari for his second term.
BJP veteran Jaswant Singh has secured favour from AIADMK, the Bhartiya Janata Party, Janata Dal-United, Shiv Sena and also other smaller parties. The NDA nominee was hoping to elicit a stake from the Biju Janata Dal (BJD), which recently announced its decision to back out from voting in the poll.
UPA expects its favoured candidate to secure at least 500 votes out of the total of 788 votes from Lok Sabha and Rajya Sabha MPs who will elect the 14th Vice President of India on Tuesday, the Press Trust of India said.
Ansari is expected the get the most votes from Congress, which has the biggest lead in the Parliament with 204 members in Lok Sabha and 71 members in Rajya Sabha. UPA ally Trinamool Congress has 19 MPs in the Lok Sabha and 9 in the Rajya Sabha, while AIADMK was allocated 14 seats in the Parliament.
Ansari and Singh each need 394 votes from the Electoral College consisting of members from the two houses. The UPA candidate has already secured a tally of 451, while his NDA counterpart, with AIADMK support, roped in 231 votes.
Ansari was UPA's second choice in the race for the 13th Presidential elections, which former finance minister Pranab Mukherjee beat him to the top post. His previous Vice Presidential win was in 2007, when he got 455 votes against the 233 votes secured by NDA candidate Najma Heptulla.
Singh served in the Finance, External Affairs and Defence ministries, and wasl served as Leader of Opposition in the Rajya Sabha from 2004 till 2009. AIADMK Chief Jayalalithaa, on extending her support to Singh, said that "there has to be an opposition in a true democracy."
The result of the 14 Vice Presidential election will be announced on Tuesday evening.