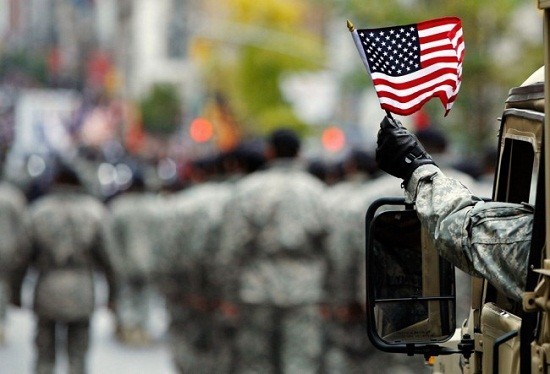 Veterans and active-duty military officials will be envied on Veterans Day 2014, as they will be heartily welcomed to free coffee, donuts, pizza, ice cream, burgers and much more this Tuesday.
Annually celebrated on 11 November, Veterans Day is the anniversary of the signing of the armistice, which ended the World War I violence between the Allied nations and Germany in 1918. It was at the 11th hour of the 11th day of the 11th month of 1918 that an armistice between the two forces was agreed upon.
Although initially called as the 'Armistice Day' it gradually evolved with the American government ultimately deciding to celebrate 11 November as "Veterans Day" in honour of all the military personnel who served the United States.
But in 2014, all eyes are on the freebies and best restaurants that give free food and drinks to veterans and possibly their family members.
Here are a list of the most attractive Freebies and best restaurants from Military.com:
Freebies: (List is not comprehensive, and some may require military ID or other documents)
Free haircut: Veterans will be given free haircut – or a card for a free haircut to redeem by 31 December -- by Great Clips shops.
Free meal: At Hooters, the freebie meal can be worth up to $10.99, with any drink purchase. Other good restaurants for free meals are Applebee's, Chili's and California Pizza Kitchen (See below).
Eat a free buffet: Golden Corral is offering free dinner buffets from 5-9 pm on Monday, 17 November at all restaurants for everyone who served in the military.
Free Burger: All-American Burger, the signature burger of Shoney's, will be up for grabs for vets and active duty military all day of Veterans Day 2014
Free Coffee: Starbucks is offering a free, tall brewed coffee on Tuesday to military veterans and active duty service members and also their spouses.
Get free pancakes: From 7 am to 1pm on Veterans Day 2014, IHOP offers vets and active military personnel free Red, White and Blue pancakes. Bob Evans will also do the same.
Free Cone: All veterans and military personnel on Tuesday will get ice cream cones from Handel's Homemade Ice Cream and Yogurt.
Free work out: '24-hour Fitness' is offering free use of the health club to vets and active military through Tuesday.
Sip a free glass of beer: Restaurants owned by CraftWorks Restaurants Breweries will give away a free craft beer to active and retired military officials on Tuesday.
Free game tokens: Chuck E. Cheese has promised to give 20 free tokens to military vets and active-duty military until Saturday.
Best Restaurants for Free Food
Veterans and active members of the military will get free food in the following restaurants only on Tuesday, unless otherwise stated:
Applebee's: A choice of seven different meals
Bob Evans: Free all-you-can-eat hotcakes
California Pizza Kitchen: On the house, entree from special menu
Cheeseburger in Paradise: Free All American Burger and fries
Chili's: A special menu's meals free of cost.
Denny's: Breakfast from 5am till noon, which you can build on your own
Friendly's: Free Big Two Do Breakfast or free All American Burger meal for lunch as well as dinner
IHOP: Free order of Red, White, and Blue pancakes anytime between 7 in the morning till 7 in the evening.
Krispy Kreme: Free small coffee and a donut.
On the Border: Free "create your own combo" meal
TGI Fridays: Free lunch from 11am till 2 pm on Veterans Day
Texas Roadhouse: Free lunch from special menu
Tim Hortons: Free donut, throughout the day