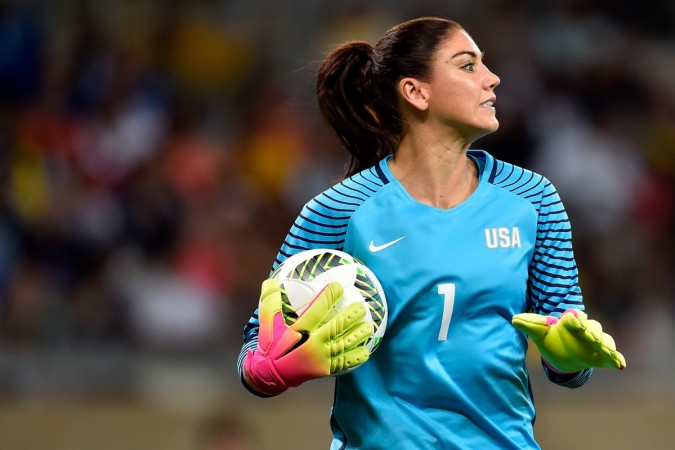 In a highly revealing interview, Hope Solo, one of the greatest goalkeepers in women's soccer/football, has made shocking allegations against former FIFA President Sepp Blatter. The now-retired footballer, who is blessed with gorgeous looks, claimed that Blatter once tried taking advantage of her womanhood.
She revealed the incident in a heart-to-heart interaction with Portugal newspaper Expresso.
I had Sepp Blatter grab my a** [turns towards her press assistant, Melinda Travis]," said Hope, 36. "Can I talk about that?"

"It was at the Ballon D'or one year [Solo presented the FIFA's women's player of the year award in January 2013 and shared the stage with the now disgraced former FIFA president], right before I went on stage..."
The Harvey Weinstein sexual assault scandal have given women across the world the strength to come out in open and narrate the nightmarish events from their life with the hashtag #metoo on social media. Hope too has spoken out of such an incident from her past.
I speak out directly [with people] when things like that happen. In other cases, for instance, I've told my teammates: "Don't ever fucking touch me! Don't do it". It has been in the showers, it's been in the locker room... I usually speak directly with the person.

"In the case of Sepp Blatter, I went on the stage, I was nervous for the presentation... It was the Ballon D'Or I was presenting. After that I didn't see him and that was kind of bad. I didn't get to tell him directly "Don't ever touch me!" That's the way I've always handled things. Directly."
Blatter has spoken up on Hope's claims and when contacted by BBC Sport, the 81-year-old said: "This allegation is ridiculous."
Blatter was forced to step down from the FIFA president post after a corruption scandal engulfed the whole of the world governing body back in 2015. Gianni Infantino succeeded him.
Continuing with the explosive interview, Hope added that it is high time that women athletes should speak up on sexual harassment, which is very common.
Yes, I've seen it throughout my entire career," said Hope on the sexual harassment incidents in women's soccer.

"And I wish more female athletes would speak out about their own experiences. It's rampant, it's not just in Hollywood, it's probably all over the place. I've seen it in sports.

"For years, in the past, female players date and end up marrying their college coaches, which obviously a coach should not be doing, especially with a young player. I've seen it not just with coaches, I've seen it with trainers, doctors, and our press officers... I've seen it amongst players in the locker room.

"I don't know why more players don't speak out against it.