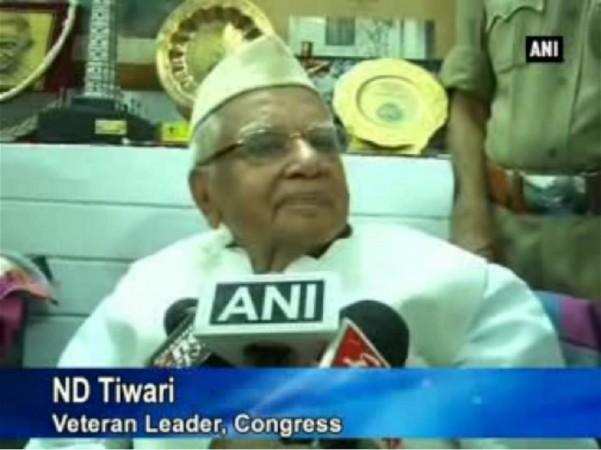 Veteran Congress politician Narayan Dutt Tiwari (ND Tiwari) tied the knot with Ujjwala Sharma, the mother of his son Rohit Shekhar, at Mall Avenue in Lucknow on Wednesday.
I'm very happy, Tiwari ji suggested the marriage, it was a low-profile event: Ujjwala Sharma after marrying ND Tiwari pic.twitter.com/gOiXYmbzGh

— ANI (@ANI_news) May 15, 2014
Ujjwala Sharma, a former college professor in Delhi, had an affair with ND Tiwari and Rohit was born out of the affair. Rohit had approached the court in 2008 claiming that he was Tiwari's biological son. In 2012, Tiwari was forced to give DNA samples for a paternity test. On 27 July, 2012, the Delhi high court read out the DNA report, according to which Tiwari is the biological father of Rohit Shekhar.
Despite the DNA report, Tiwari refused to accept Rohit as his son and denied any relations with his mother. He had also claimed that it is a political conspiracy by his opponents. However, in March 2014, Tiwari accepted Rohit as his son.
"I am shocked that ND Tiwari has finally accepted the fact that I am his son, but I am glad, Rohit was quoted as saying by ANI in March. "I hope nothing bad happens now. I only want my mother to be respected. I also want to spend some time with my father like any other family," he added.
In the first week of May, Rohit's mother Ujjwala Sharma staged a dharna outside the residence of Tiwari alleging that the former CM's security personnel were preventing her from meeting him. Sharma had accused Bhawani Bhatt, the Officer on Special Duty (OSD) at Tiwari's residence, alleging that she prevented her and Rohit from living with the Congress leader. She also filed a complaint against Bhatt claiming that she forced her out of the house late night on 17 April.
"All I want to do is look after Mr. Tiwari in his old age. He has reconciled with me and my son. But some people want a monopoly over his property so they don't want his family to be with him," Sharma was quoted as saying by the Hindu.
This incident happened just weeks after Tiwari accepted Rohit as his biological son. After a brief altercation, Sharma was taken to the Tiwari's house and the two patched up. On Wednesday (14 May), the 88-year-old veteran politician married the 62-year-old retired lecturer in a traditional wedding ceremony.
Check below some Twitter reactions to the wedding
It is too late but We should have to respect N.D.Tiwaris decision to accept ujjwala sharma. And have to mind our language too #NDTiwari

— Abhijit Karande (@abhijitsir) May 15, 2014
I bow to the long wait, struggle & patience of Ujjwala Sharma. Though late but she finally got the well deserved place & respect. #NDTiwari — Jal Kukdi (@Jal_Kukdi) May 15, 2014
Well at least, at age 83, ND Tiwari finally did the right thing. So many people go through life without ever acknowledging their faults

— The Bad Doctor (@doctoratlarge) May 15, 2014
Hats off to Ujjwala Sharma, take a bow lady, the way u fought for ur rights! Love mst be really blind, for some1 to marry ND Tiwari! — @iDebu (@debasish_mishra) May 15, 2014
Quite cool of N.D. Tiwari to get married at an age where ones only commitment is to kidney failure.

— Khamba (@gkhamba) May 15, 2014
ND Tiwari doesn't deserve Ujjawala Sharma. He doesn't deserve a brave son who had to fight for his right & prove that Tiwari is his father. — Anu (@TweetuSingh) May 15, 2014