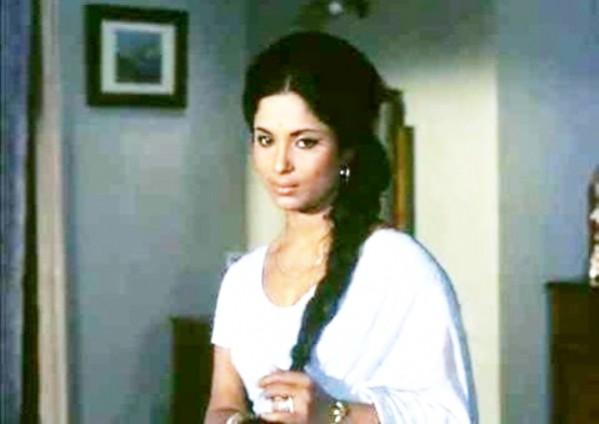 Veteran actress Sumita Sanyal breathed her last at the age of 71 on June 9.
Sumita passed away at her Deshapriya Park residence in Kolkata. The actress was admired both for her beauty as well as her elegant screen presence. She had worked with superstars like Amitabh Bachchan, Dilip Kumar and Sanjeev Kumar.
She was not only a familiar face in Bengali film industry, Sumita had impressed her fans and filmmakers in Bollywood as well. She was known for her performances in movies like Anand, Sagina Mahato, Nayak etc.
Apart from Anand, some of her other Hindi movies include Aashirwad, Guddi and Mere Apne. She has a host of Bengali movies to her credit. Sumita was married to film editor Subodh Roy, and had a son.
Born Manjula in 1945 in the hills of Darjeeling in what was then British India, she was rechristened Sucharita by director Bibhuti Laha, who belonged to the Bengali film technicians' collective Agradoot.
It was director Kanak Mukhopadhyay who gave her the name Sumita, and it stuck.
She went on to star in several films from 1960 to 1971, with a few more between 1974 and 1976, before settling down into marital bliss.
Her demise took the industry by shock as many took to Twitter and express condolences at the loss. Even West Bengal Chief Minister Mamata Banerjee tweeted, "Saddened at the passing of veteran actress Sumita Sanyal. My condolences to her family, friends and fans". Check some of the Twitter reactions, her song videos and some of Sumita's photos.
Saddened at the passing of veteran actress Sumita Sanyal. My condolences to her family, friends and fans

— Mamata Banerjee (@MamataOfficial) July 9, 2017
Sad abt Sumita Sanyal passing away. She was an actor of substance and the sister of the legendary #Naxal leader Kanu Sanyal. #SumitaSanyal

— GhoseSpot (@SandipGhose) July 9, 2017
#SumitaSanyal R.I.P a big jerk to the Hindi film industry. And not only the Hindi film industry but to the artistic culinary prides of India

— Aman Shaw (@iamamanshaw) July 9, 2017
Short but an impressive acting career she had. Specially her unforgettable performance in Satyajit Ray's Nayak. Rest in peace Sumita Sanyal pic.twitter.com/4nWN5QhAQH

— Debitara Dutta (@DebitaraDutta) July 9, 2017
Saddened to hear about the demise of the veteran actress Sumita Sanyal
May her soul rest in peace

— Prosenjit Chatterjee (@prosenjitbumba) July 9, 2017