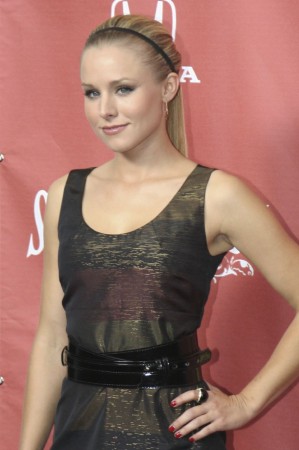 Even though the highly popular drama series "Veronica Mars" was cancelled after the third season, it seems that Season 4 is still a possibility, as hinted by series star Kristen Bell, who played the protagonist of the series, Veronica Mars, in all three seasons.
As reported by Entertainment Weekly, talking about working with series creator Rob Thomas, Bell said: "There's a constant dialogue about projects and when we can work together again, and it's unfortunate that our schedules are quite different and that my kids and current television show keep me very busy so I'm not often available. But he knows I would be there for anything were I to have the time."
Bell recalled how excited she was when Rob asked her to play a voice-over role in his current series "iZombie."
"[Rob] called and said, 'We have an episode where we're investigating a woman who has written erotic novels; are you interested in playing the voice of a woman who has written erotic novels?' Before he finished the sentence, I screamed, 'Yes!'"
When asked what differences she experienced between "Veronica Mars" and "iZombie," Bell said: "Definitely the intelligence level, the desire to solve cases of sorts. Veronica busied herself with helping the underdog whereas Liv busies herself with helping a victim, but their sassiness, which I always love to see in women, their ability to speak up and talk back is something I think is similar in both girls. Their circumstances are much different but their attitudes are similar."
On the question of a another "Veronica Mars" series, Bell said that there is definitely hope for it and if things work out for good, another series in inevitable.
"We've ping-ponged other ideas but it always comes back toVeronica Mars because it's so special to the both of us and in truth, because it's so beloved by fans," she said. "The whole reason to create something is so people will love it and we have the best fans on the planet so we're definitely still looking for the window where we could allow Veronica to exist again, whether it's a miniseries or a short-run cable series."