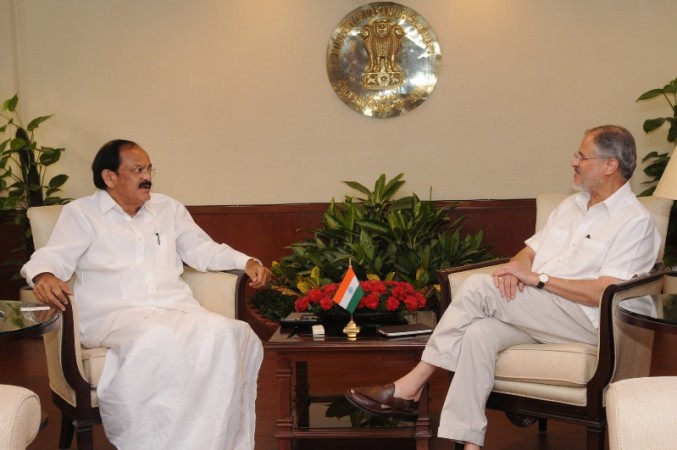 Pointing out the under utilization of Delhi Airport Metro Rail line, Union Urban Development Minister M Venkaiah Naidu on Monday directed the officials concerned to immediately take all required measures to ensure the full capacity utilization of the line.
And to drive home the point how convenient the Airport Metro line travel is, Naidu announced that he will travel by the line to and from the Delhi International Airport.
Naidu, on arriving from Hyderabad, travelled from Delhi International Airport to Shivaji Stadium terminal by the the Airport Metro line.
During the journey, Naidu reviewed the functioning of the Airport Metro Rail with the officials concerned including Mangu Singh, the Managing Director of the Delhi Metro Rail Corporation.
The minister expressed concern over the under utilization of the rail line that was meant to facilitate fast and comfortable travel between the international airport and major centres of the national capital.
During the conversation with Naidu, the passengers expressed immense satisfaction with the quality of the Airport Metro Rail line services. Some of them suggested reduction in tariff and increased frequency of services, introduction of bus transport between Shivaji Stadium and major commercial and work centres of the capital.
Later, speaking to the media, Naidu described the Metro Rail services, including the Airport Metro Rail, as symbols of 'modern India' and stressed they need to be put to optimal use.
He directed the officials concerned to examine the suggestions made by the passengers for full capacity utilization of the Airport Metro Rail that was built with substantial investments.
Naidu said the Union Government will give priority attention to connecting the adjoining cities of Haryana, Uttar Pradesh and Rajasthan. The minister also suggested best use of the lands, buildings and other properties of metro stations for increasing revenues.
Narrating his own experience of Airport Metro travel, Naidu said that such emerging rail services offer the best and comfortable alternatives to road travel in urban areas marked by slow movement, pollution, traffic jams etc.
The minister announced that he would henceforth avail the Delhi Airport Metro Rail for commuting to and from the Delhi International Airport. Naidu further stated that he would urge his cabinet colleagues also to do likewise.
It can be recalled that even in the previous UPA government, the then-Petroleum Minister M Veerappa Moily took the Delhi Metro to reach his office, to underline the importance of fuel conservation and cut India's massive oil import bill. It was reported that Moily walked from his home on Delhi's Tughlak Lane to the Race Course Metro Station to board the Metro.