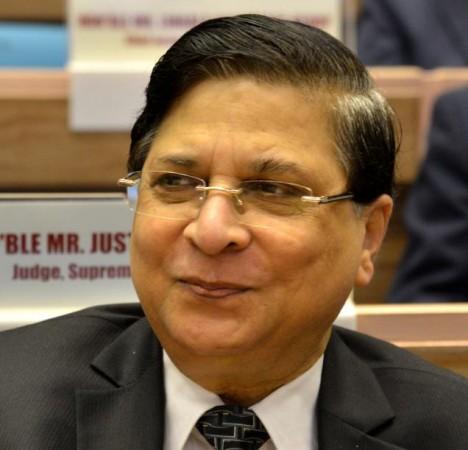 Vice-president and chairman of Rajya Sabha Venkaiah Naidu rejected the impeachment notice against the chief justice of India Dipak Misra on Monday. The impeachment notice was sent by seven opposition parties – headed by Congress — after the CJI was charged with "misbehavior and incapacity".
Naidu rejected the notice following consultations with constitutional and legal experts, reported PTI. The VP said that the impeachment notice was also rejected due to lack of substantial merit.
"Having considered the material contained in the notice of motion and reflected upon the inputs received in my interaction with legal luminaries and constitutional experts, I am of the firm opinion that the notice of the motion does not deserve to be admitted. Accordingly, I refuse to admit notice of motion," Naidu was quoted as saying by The Times of India.
Modi calls Naidu's rejection victory
Congress leader PL Punia, who is clearly not happy with the rejection has said that his party and the other opposition parties will now consult legal experts and then decide on the next course of action.
Congress leader, Tehseen Poonawalla took to Twitter to mock at the VP's rejection.
According to reports, last weekend the Congress has also been considering moving to the Supreme Court if the CJI was not removed.
Meanwhile, the rejection of the impeachment notice calls for a celebration for the BJP, who has been defending Dipak Misra.
Prime Minister Narendra Modi, called the rejection a victory for India's democracy.
Politically Biased Impeachment Motion Against Chief Justice Of India Rejected By Vice President of India #VenkaiahNaidu. This Is Victory Of Our Democracy.

— Narendra Modi (@narendramodi177) April 23, 2018
Twitter reacts
Several people have also taken to Twitter to mock Congress:
Dear Congress, Let's start process to remove Vice President too as #VenkaiahNaidu rejects Impeachment Motion against #CJIDipakMisra. Now Congress will approach Supreme Court. Opposition has no work other than Drama. Opposition opposing everything for the sake of being Opposition.

— Anshul Saxena (@AskAnshul) April 23, 2018
Venkaiah Naidu rejects Impeachment motion against CJI Dipak Misra.

Now, Congress is only left with the option of Loose motion.

— Keh Ke Peheno (@coolfunnytshirt) April 23, 2018
VP & Chairman of RS has rejected the ill conceived & politically motivated #Impeachment motion that Team Rahul intended to use as a gun to hold the judiciary hostage - there were enough legal grounds to do so- would be foolhardy to challenge this merely to satisfy political ends

— Shehzad Jai Hind (@Shehzad_Ind) April 23, 2018
"VINASH KALE VIPREET BUDDHI"

Is the proverb which clearly suits to Congress who moved the ill advised impeachment motion against Hon'ble CJI on filmsy grounds. Congress will bite the dust in this case too.

— Murari Goyal (@Hamara_Desh) April 23, 2018
However, a few people have condemned Naidu's decision.
What!! VP Naidu rejects impeachment motion against CJI signed by 64 RS MPs! On what grounds? He has no power to say that charges are not made out. That's for the inquiry committee of 3 judges. He only has to see if it's signed by >50 MPs & possibly if charges are of misbehaviour

— Prashant Bhushan (@pbhushan1) April 23, 2018
2/3
Within hours of 64 MP's submitting the impeachment motion, Leader of Rajya Sabha(FM) had expressed naked prejudice by calling it a 'revenge petition' virtually dictating the verdict to Rajya Sabha Chairman on that day.

Has 'Revenge Petition' now become 'Rescue Order'?

— Randeep Singh Surjewala (@rssurjewala) April 23, 2018
Now that impeachment motion has been rejected, some are saying it can be challenged in SC.

Wait. So a motion that is about misconduct of the CJI involving fixing benches, will be challenged so that the CJI can happily fix another bench to consider it?

Yeah. Totally makes sense.

— Meghnad (@Memeghnad) April 23, 2018