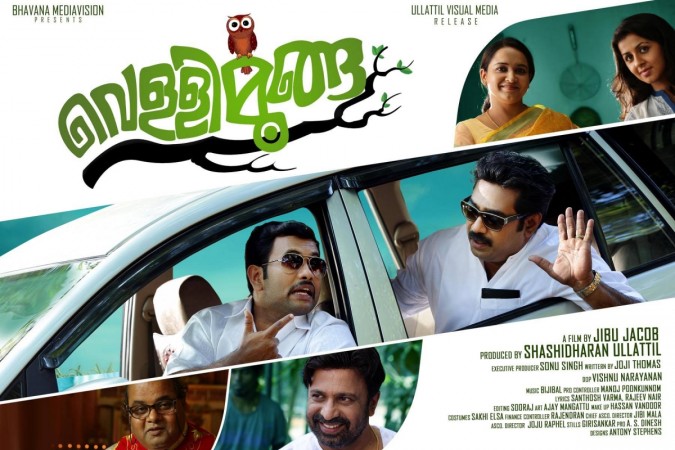 The Malayalam film "Vellimoonga" starring Biju Menon, Aju Varghese, Asif Ali and Nikki Galrani in the lead has opened to positive reviews. The film is cinematographer Jibu Jacob's debut directorial venture.
"Vellimoonga" also has KPAC Lalitha, Lena, Tini Tom, Kalabhavan Shajon, Siddique, Anu Joseph, Sunil Sugatha and Sashi Kalinga in pivotal roles.
The story of "Vellimoonga" revolves around the life of an unmarried politician Mamachen, 42, who mixes politics with his personal life. He deals everything in a political way and struggles to lead a family life. Mamachen's father, who was a freedom fighter and social activist, dies after leaving his family in huge debt.
Following his father's foot steps, Mamachen becomes the candidate of the left wing party for the forthcoming elections. The film is told in the background of election and some mysterious incidents surrounding it.
The film's cinematography is handled by Vishnu Narayanan, who wielded the camera for "Zachariayude Garbhanikal", "Simhasanam" and "Asuravithu". The editing is done by Sooraj.
The film's music is composed by Bijibal and the lyrics are penned by Santhosh Varma and Rajeev Nair.
"Vellimoonga" is produced by Shashidharan Ullattil under the banner of Bhavana Mediavision.
Here are the reviews of "Vellimoonga" by various reviewers
"The main positive of the movie is good comedy situation and story narration. This makes the film a watchable one especially for family. Biju Menon with his Kanjirapally dialect is safe in his hand. Aju Varghese, as partner in crime of Mamachen (Biju Menon) performance is excellent. – Chitralokam
"It has a platform which many flop films had in the past and an unconventional hero heroine equation. Even with these odds Vellimoonga succeeds in becoming a clean entertainer by having creative humor all over the script. Cinematographer Jibu Jacob's debut directorial venture Vellimoonga is an extremely pleasing look back to conventional Malayalam cinema. In the making Jibu Jacob has done justice to the script written by Joji Thomas. Script doesn't have any large scale of cheesy drama and the director has tried to keep it like that. And also the humor is in that sensible level so that it looks less comical. Script offers a lot of fun moments. The romance of Mamachen is a bit odd, but we won't feel anything icky about it at the end. Nice cinematography. Edits were okay. Good bgm. Music was fine." – Lensmenreview.com
"Bijumenon was the star, He actually saved this movie. Rest of them were in sync with the story nothing special to mention. Direction was decent, script was just mediocre, and cinematography is also good. Songs were hummable and the BGM was also in sync with the movie. My verdict is Vellimoongs will give a lot to laugh no doubt in that. Do not expect anything more just go with your family and have a great time" – Cochintalkies.com