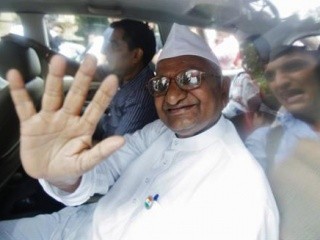 About 15 people allegedly from the youth Congress wing have been detained for carrying out an attack on a car accompanying anti-corruption crusader Anna Hazare's rally on Thursday, in Nagpur.
A group attacked a Scorpio SUV car that was carrying brochures related to the ongoing rally in Maharashtra. The youth Congress supporters allegedly targeted the car because it was carrying the booklets that were supposedly against youth Congress leader Rahul Gandhi and party president Sonia Gandhi.
Reports said the attackers broke the car windows pelting stones when the car was near Chitins Park. They later picked up the books from the attacked vehicle and began to raise slogans in support of Rahul and Sonia Gandhi.
Meanwhile, Anna Hazare reached the spot where he was scheduled to address a rally safely as he was in another car.
Former police officer and active Team Anna member Kiran Bedi immediately took to the micro-blogging site, Twitter, about the incident. "A vehicle accompanying Anna's car carrying books and material for ongoing Maharashtra tour has been attacked, windows broken. Annaji is safe," said Bedi via twitter.
Further Bedi said, "hope a report has been lodged in the area police station. And hope the police does a fair investigation to identify culprits."
In a deal to step up pressure on the government over introduction of the Lokpal bill, Anna Hazare last month launched a tour from his home district Ahmednagar after a meeting in Rahata village, accompanied by his key supporters.
Hazare's tour was intended to revive the drive against corruption in the public. He will cover several places, building the momentum that will help him kick off a mass agitation, in case the government violates its promise on the Lokpal Bill. [Read: Anna's Maharashtra tour]
However, the Congress-led UPA government has been making all the efforts to ensure the passage of the contentious Lokpal bill in both the Houses during the second leg of the Budget session, which is currently in progress.
Reports said that the UPA Cabinet will meet on Thursday evening to clear the bill and refer it to the joint parliamentary committee for its approval before tabling in parliament.