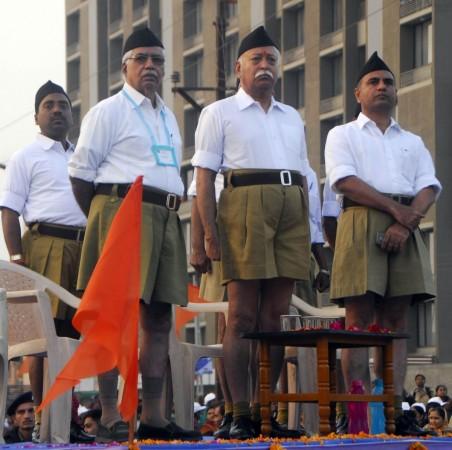 The family counselling programme of the Rashtriya Swayamsevak Sangh (RSS) launched in April involves visiting people's homes to "instil values and ethics" and advocate vegetarianism and wearing Indian attire. It also includes counselling them on how to celebrate birthdays and conduct themselves in public.
The campaign, called Kutumb Prabodhan (family counselling), will continue till the general elections in 2019. RSS insiders were quoted by the Hindustan Times as saying that senior swayamsevaks and a Rashtra Sevika Sangh (RSS' women's wing) worker will visit families and "educate" them on the benefits of eating vegetarian food and how not to get influenced by foreign culture.
A group led by RSS leader Ashok Bhatt visited a family in a locality in Nagpur last week and advised them to wear sarees and kurta-pyjamas during festivals. The family was also told that blowing candles and cutting cakes to celebrate birthdays was not a part of Indian culture.
The group also 'educated' the family about traditional Hindu practices such as chanting mantras before meals. The family was also told all members must eat together at least once a week and bond with each other during that time instead of watching television or discussing politics and cricket. The family was also told to take up social work.
Every individual must respect women, fight against the caste system and also get in the habit of reading books that interest them, the family was told.
"The RSS team enquired about our food habits, favourite TV channels and shows, how we celebrate a birthday and our preference of attire," Suresh Deshpande, a member of the family, was quoted by HT as saying adding that it was a good concept aimed at strengthening the bond between family members.
Adding that the RSS group has been receiving positive responses, Bhatt said: "We are also asking the families to sit together at least once a week to help to create bonhomie and strengthen ties among the members."
Senior RSS leader Atul Pingle was quoted by the newspaper as saying that such an initiative was the need of the hour as people were becoming more materialistic and self-centred. "We will also visit the families of minorities like Muslims and Christians," he said adding that the campaign would help restore harmony, friendship and community bond among people.
The Kutumb Prabodhan campaign comes after RSS' pet project of "one temple, one crematorium and one well for all in each village" was launched across India in 2016 on Babasaheb Ambedkar's 125th birth anniversary in an effort to promote social equality and harmony.