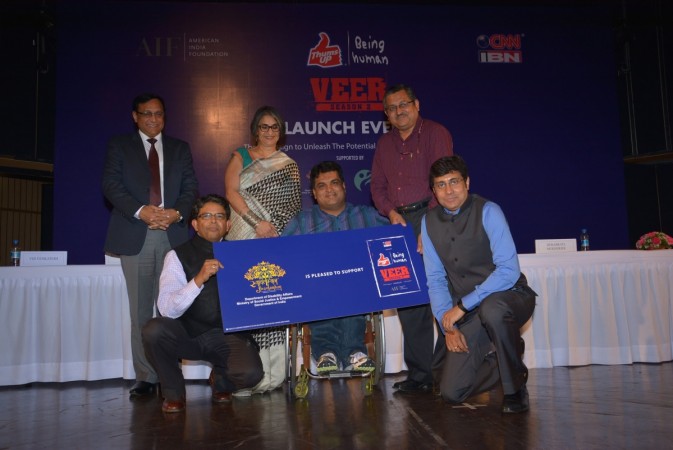 Thumbs Up Being Human VEER, a campaign of strength and self-belief to generate awareness and advocate for inclusivity, accessibility and employability of people with disabilities (PwDs), will work with the Indian government's Department of Social Justice and Empowerment to provide skill training to 5 lakh PwDs in the next three years. VEER has enrolled and trained over 1,000 PwDs, sensitised nearly 150 corporate employers, helped provide jobs to 573 PwDs, within the first 15 months of the programme.
In its next phase, VEER aims at raising ₹2 crore in corpus and provide skill training to more than 2,000 PwDs. Hans Foundation, an NGO operating in the area of empowering marginalised sector in disability space, is joining the movement and has committed to match funds, proportionate to contributions received.
Secretary of Ministry of Social Justice & Empowerment Lov Verma, Vice-President of Commercial & Marketing at Coca-Cola India Debabrata Mukherjee, CEO of American India Foundation MA Ravi Kumar, Trustee of Being Human – The Salman Khan Foundation Viji Venkatesh, and India's leading Wheelchair Tennis Player and Thumbs Up VEER athlete Boniface Prabhu announced the launch of Season 2 of VEER. Representatives of VEER partners, National Deaf Society, SNS Foundation and National Association for the Blind, were also present at the occasion.
A special panel discussion was also held with employers and other stakeholders addressing challenges such as inclusive education and employment, skill training and development and advocating disabled-friendly technology. The participants outlined roles that can be played by the government, corporates, not-for-profit organizations, policy makers and think tanks on the way forward to empower the 'specially-abled' of the country.
Speaking on the occasion, Debabrata Mukherjee said, "The Thumbs Up philosophy of being passionate and strong is something that drives this program. Through VEER, we want to encourage all the differently abled to unleash their potential, be strong and overcome the barriers they face. We are happy with the achievements of the program in its first year and are excited about the milestones being set for the second phase, where our endeavour will be to accelerate the pace and double the deliverables of the first year."
He further said: "We have worked with some great partners like Being Human – The Salman Khan Foundation and AIF and are extremely delighted to now have Hans Foundation on board. I congratulate all the VEERs who have overcome their limitation and wish them to unleash their potential – Toofansabkeandarhotahai, bas dhakkanhataneke deer hai!"
On the occasion, The American India Foundation (AIF) released the First Year Completion Report of the program VEER. The AIF Report highlights the work done by VEER, in its first year, including the types of initiatives under VEER, partner corporates and success stories. The Report by AIF, also detailed the progress made by the programme and roles played by several partners.
Viji Venkatesh said, "We started the VEER initiative together last year to help empower the differently abled by providing them with the right set of skills. The initiative has been able to achieve the milestones set out in its first year and has helped over 1,000 people with disabilities become employable. We thank everyone involved for their support and especially the VEERs who have demonstrated courage by accepting what they have and taking this step towards transforming their lives."
MA Ravi Kumar said, "We are very proud of the VEER campaign that has trained 1043 VEERS and provided employment to 573 of them with the help of 147 employers. I'm personally delighted that AIF, together with Thumbs Up and Being Human – The Salman Khan Foundation, and partner organizations, has successfully achieved the goals set for the first year. We are deeply grateful to our partners, employers, donors and persons with disabilities. Going forward, we at AIF remain committed to catalyzing social and economic change in India through equitable access to livelihood opportunities for persons with disabilities. In the next phase of VEER we look forward to scaling the program more than twice, with the existing partners and with the two new partners – Ministry of Social Justice and Empowerment (Government of India) and The Hans Foundation."
On partnering with VEER family, Chairperson Sweta Rawat said, "The Hans Foundation extends her greetings for the launch of its VEER II campaign. The Hans Foundation is extremely happy to partner with VEER in its drive to address the Nobel Cause of raising funds for the disabled persons and announces its contribution of Rupees One Crore and Fifty Lakhs to promote VEER's efforts. Amongst its four core areas of work viz, Disability, Health, Education and livelihoods, THF has chosen Disability as its major thrust area and has been engaging efforts at the National and International levels to bring focus on this most marginalized sector in our country. We, thus join hands with VEER campaign and extend our whole hearted support to make it a successful movement in order to help hundreds of thousands of disabled persons to live with dignity, honour and self esteem."