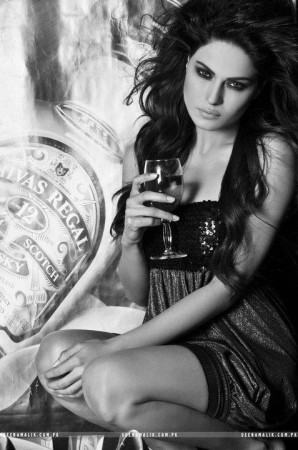 Controversial celebrity Veena Malik has managed to grab the limelight yet again.
Malik, better known for her dramatic antics has created a furore over her anti-India post on Twitter on Saturday.
The Pakistani origin actress who has mostly starred in quite a few sleazy flicks in India wrote "India Sucks!" after retweeting the news of a German student being harassed in the capital Delhi.
India sucks.....!!!

— Veena Malik (@iVeenaMalik) March 15, 2014
The actress's anti-national comments rose to prominence within a short span and "Veena Malik" started trending all over the country. While the actress's comments mostly met with angry and bashing replies, reports of the said account of Malik being fake did rounds. Nonetheless, with "Veena Malik" trending high, some of the users had a whale time belting out jokes at the actress's expense.
Today's charity done - Gave Veena Malik her 2 minutes of fame. — Lord Rohit Sharma (@YourLordRohit) March 15, 2014
Q: How many Veena Malik does it take to change a bulb ????? A: Zero

— A Girl Of Her Word (@AGirlOfHerWord) March 15, 2014
Veena Malik trending in India is more horrific than her anti-India tweet. — Gaurav Vasdev (@gauravvasdev1) March 15, 2014
Veena Malik says India sucks because we don't have handsome and fit men like Inzaman and Kamran Akmal

— Ra_Bies (@Ra_Bies) March 15, 2014
That's the problem with stupid accounts like Ashutosh IBN7 and Veena Malik. You can never differentiate which one real and which parody. — Donald Duck (@WatDaDuck_) March 15, 2014
Some women eat dinner with silverware. Some use chopsticks , Veena Malik prefer zippers.

— Rishi Bagree (@rishibagree) March 15, 2014