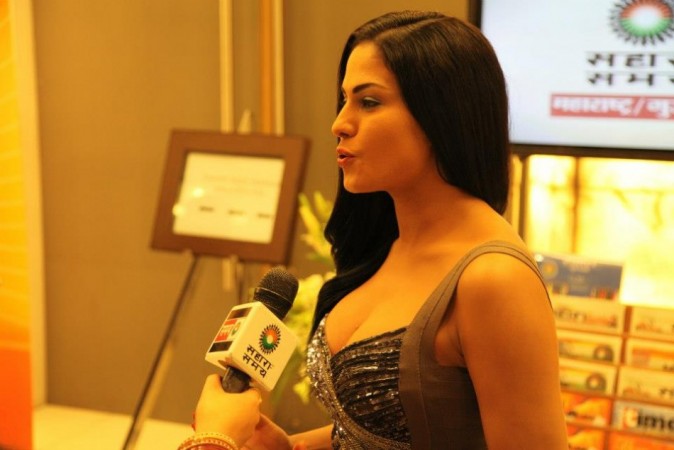 Controversial celebrity Veena Malik has tried to distance away from "India Sucks" tweet blaming jilted lover Prashant Singh for the fiasco.
The Pakistani origin actress created a furore after her Anti-India tweet started trending and evoked mainly averse response.
Now the actress has tried to douse the controversy stating that her Twitter account has been hacked by Singh, her former secretary and also alleged ex-lover.
"My Twitter account was hacked in December, last year, by my digital manager from India, Prashant, who is part of a Mumbai-based web service company. I had a three-year contract with his company, but after two years I chose to discontinue the association. The company continued to keep a track of my account, but after I got married, Prashant started blackmailing me. He started demanding money and said that he would not give me my account details otherwise," the actress told Times of India and added "now this has been blown out of proportion. This morning, I woke up and saw this tweet. Though my husband is very supportive, it is embarrassing to trend for such a reason."
Malik and her husband Asad Bashir Khan Khattak further approached filmmaker Mahesh Bhatt with the situation because of his significant role in furthering the Indo-Pak relations.
Bhatt in speaking to the tabloid confirmed that the actress had approached him for help and said that he had talked to Prashant Singh on the actress' behest, but stepped aside after learning of the personal equation between the two.
"If this is a matter of the heart, I would step back...because in the matter of the heart, there is no easy solution. This is where my connection with this whole controversy begins and ends," told Bhatt to the tabloid.
When Malik married Khattak recently, the actress's ex-secretary Singh claimed that the actress had cheated him since they were in a live-in relation and later lodged a police complaint stating she committed fraud and took away his money.
Meanwhile, Singh also posted from his account on Saturday, "I can make people trend..."