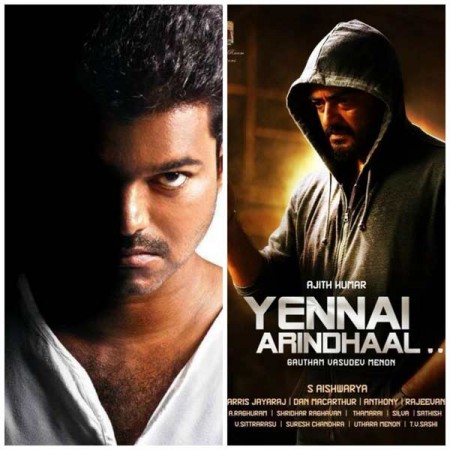 Ajith has been voted the Best Tamil Actor of 2015 in a poll conducted by IBTimes India between 21 December, 2015, and 1 January, 2016. He has beaten Vijay by a narrow margin to occupy the numero-uno position.
Thala, who was nominated for "Vedalam", has secured 45.71% of the votes while Ilayathalapathy, who was nominated for "Puli", got 45.7% of the votes. In fact, Ajith got 7,311 votes while Vijay secured 7,309 votes! There were 10 contestants in the polls, but the competition was mainly between Ajith amd Vijay as their combined vote share stands at more than 90%.
Vijay was initially leading, but Ajith's vote share increased gradually. Till the last minute, it was a neck-and-neck competition between the two actors, but Thala had the last laugh. "Vedalam" had turned out to be one of the biggest hits of 2015, and set the record for the highest-grossing opening-day collection in Tamil Nadu by minting Rs 15.5 crore. "Puli", on the other hand, turned out to be a flop despite getting a thunderous opening.
Vikram, who was nominated for "I", came a distant third, garnering 3.15% of the votes. Jayam Ravi (nominated for "Thani Oruvan" and "Romeo Juliet") is in the fourth place with 2.15% votes, Dhanush (nominated for "Anegan" and "Thanga Magan") secured 1.26% of the votes and Suriya (nominated for "Massu") received 1.06% votes to occupy fifth and sixth places.
Universal star Kamal Haasan ("Uttama Villain", "Papanasam" and "Thoonga Vanam"), Sivakarthikeyan ("Kaaki Sattai"), Karthi ("Komban") and Raghava Lawrence ("Kanchana 2") are in the next four positions.