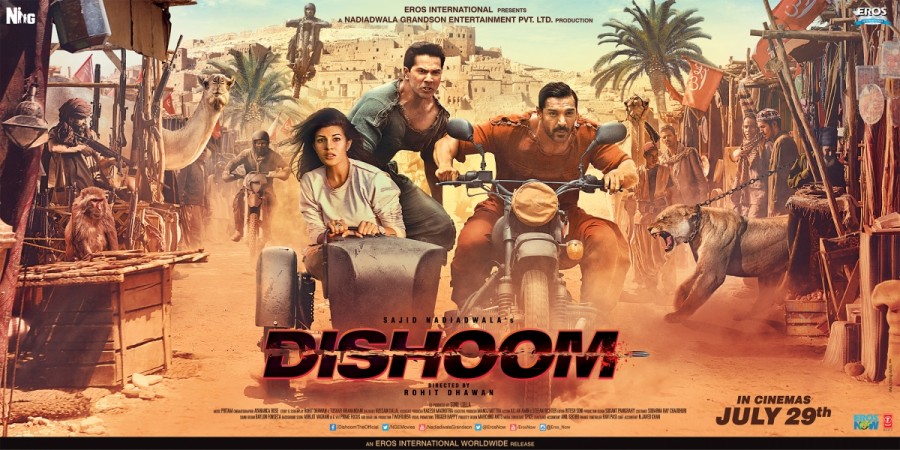 Rohit Dhawan's "Dishoom" has landed in trouble ahead of the film's release due to the song, "Sau Tarah Ke." The Delhi Sikh Gurdwara Management Committee (DSGMC) has written an open letter to the Central Board of Film Certification (CBFC) to ban the song.
The makers have released the teaser of the film's first song, "Sau Tarah Ke," and in the video, Jacqueline Fernandez is seen wearing a short dress with a Kirpan around her waist. This scene has grabbed the attention of the Sikh community, thus, DSGMC General Secretary Manjinder Singh Sirsa wrote an open letter and posted about the same on his Facebook wall referring Jacqueline as "semi-clad actress."
"Objecting strongly to the 'Beadbi' of Kirpan, a pious symbol of Sikhism we asked Sh. Pahlaj Nihalani, the chairperson of Central Board of Film Certification, to instruct the removal of the video of a song titled "ishq ka marz" (Sau Tarah Ke) from the upcoming movie "Dishoom". The song depicts a semi-clad actress, Ms. Jacqueline Fernandez, dancing with a Kirpan, one of the five compulsory Kakaars worn by a practising Sikh; dangling in front of her legs and supported by a cloth belt worn around the waist by the actress and thereby made the mockery of the sacredness and respect of the religious symbols of Kirpan [sic]," Manjinder wrote.
"This act is hurting sentiments of Sikhs as we are already numerous complaints in this matter from various Sikh bodies. I request CBFC to instruct director Rohit Dhawan to immediately remove all the trailers/videos of the aforesaid song uploaded at youtube.com or other websites; either delete the song from the movie or re-shoot its video sans the wearing of Kirpan supported by the actress and to instruct the director and cast of the movie to make public apology to the Sikh community for the deliberate insult done to a respectable Sikh religious symbol. If CBFC fails to take appropriate action in this context, DSGMC will be compelled to initiate criminal proceedings against the director and case of the 'Dishoom' as well as against the CBFC," he added.
After losing the battle to the makers of "Udta Punjab," CBFC has to face another challenge. Will the makers of "Dishoom" remove the song or re-shoot? Only time can tell. But, it looks like the censor board has a lot of work to do.
Scheduled to be released on July 29, "Dishoom" will feature Varun Dhawan, John Abraham and Jacqueline in the lead roles.
Check out the teaser of the song, which the Sikh community has asked to ban: