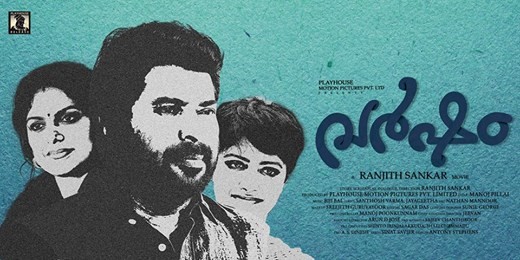 Mammootty's much-awaited "Varsham" has opened in theatres with positive reviews from the audience. Viewers have rated it as an ultimate Mammootty movie as the actor has exhibited some high-quality performance.
The film, which is directed and scripted by Ranjith Sankar, is acknowledged for some classic performances by the actors. Viewers have also appreciated the film for its narrative style and novelty.
"Varsham" was released on Thursday with a record-breaking opening of more than 400 theatres worldwide.
The plot revolves around a gulf returnee, Venu, who runs a finance company at his home town. The film shows how Venu struggles to survive in the highly competitive business world and how he is trapped in the complexities of life.
Most of the viewers are of the opinin that the film deals with highly emotional scenes and the actors have done a commendable job in presenting them with ease. The characters are also reviewed as down-to-earth and close to real life.
Overall, "Varsham" has managed to impress the film-goers and is now expected to break records at the box office. This family entertainer is produced by Mammootty under the banner of Play House Motion Pictures Pvt Ltd.
Read reviews from viewers on Facebook and Twitter:
"Heart touching film by mammooka.. It wl b a big family hit.. Cngrts al d team of Varsham" –Shafeeq Amal
Varsham is awesome movie... Mammootty sir now own right track.... After vaalsalyam amaram a long years back we will see such a classical acting of mammootty sir... Congratulation to playhouse team and Ranjith shankar sir..." – Mohamed Aslam PA
"#Varsham A must see for all those who love good cinema. Rating 4.5/5 Varsham is an elegantly crafted piece of film" – Siraj Ibrahim
" It appeals both to the ordinary film-goer as well as the cognoscenti. It is an unconventional film that stands out for thematic novelty and directorial skill. The film brings to the forefront a bevy of real talented actors from theatre, and resourcefully draws out astonishing performances from all of them" – Rafeeq Bappu
"A simple feel good movie that touch you with its emotional content & some splendid performance from lead actors." – Manu Manu K
"Realistic movie...wonderful direction and speechless acting of mammoookka...right time to present a social valuable theme.....eye got filled with tears...king of natural acting....hats off to you mammookkaaaa...expecting again..." – Mubash Rahman
"Megastar in ‪#‎varsham awesome movie....Ikka's role Venu is rocking...‪#‎story ‪#‎actors ‪#‎acting ‪#‎direction good.... Mammookka carrier best film..." – Riyas Riyu
"Varsham is an elegantly crafted pieceof film which Mammootty and Ranjith Shankarcan proudly hold close to their hearts.A must see for all those who love goodcinema" – Gokul S Dev