Varnyathil Aashanka, starring Kunchacko Boban, Chemban Vinod Jose, Suraj Venjarumoodu, Manikandan R Achari and Shine Tom Chacko in main roles, was released across India on Friday, August 4. The movie has been garnering a positive response from the audience and critics alike.
First day box office collection
According to trade analysts, the Sidharth Bharathan directorial has earned a gross collection of Rs 52 lakh on the first day at the Kerala box office alone. The movie is said to have made a business of Rs 1.94 lakh from 13 shows at the five multiplexes in Kochi, while collection from Ariesplex multiplex in Thiruvananthapuram is approximately just Rs 15,000.
Though theatre occupancy was comparatively less on the opening day at the Kerala box office, Varnyathil Aashanka is expected to pick well on Saturday and Sunday considering the good reviews.
Critics about Varnyathil Aashanka
According to Aswin Bharadwaj S of Lensmenreview, Varnyathil Aashanka, set in Thrissur, is an engaging heist movie with abundant practical humour, interesting characterisations and a satiric tone.
Storyline
"The theme here revolves around the heist operation executed by a bunch of local thieves who were all looking for that big opportunity. In the city of Thrissur due to a political conflict, a party worker dies and predictably a Hartal was called. Varnyathil Aashanka shows us the execution of this plan and how certain unprecedented involvements took it to an entirely different level."
Final words
The movie is a mixture of the conventional entertainment and modern day making style of keeping things natural and real. Varnyathil Aashanka is one movie you should definitely try. It may not be an out of the box theme or exceptional execution. But the 136 minutes of this movie is never boring and the screenplay completely invests in focusing on its final target. I enjoyed it.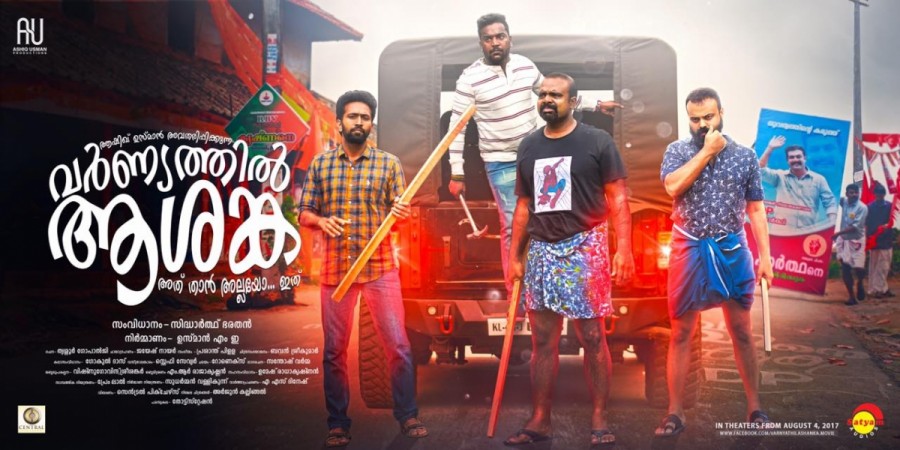 Padmakumar K of Onmanorama writes:
"The film isn't a boisterous comedy that provides you with a thorough laughter riot. But it lends you some occasions to cheer silently and heartily. As is with every filmmaker, Sidharth too staggers in the end and fails to give a good conclusion to the course of events. Had the ending been a bit more substantive, the f film would have become a handsome treat."
Check out what viewers have to say about the movie:
Eldho Kurian
#VarnyathilAashanka similar to sapthamasree but sidharth make it worth a watch. Gud performance from lead actors. Rating 3/5
Jithin KN
VarnyathilAashanka | Simply Superb Movie,Kudo's To The Team. Gd Performances By All Especially To Chackochan & Surajettan 4 Stunning Perform
Malayalam box office
#VarnyathilAashanka has one of the best comedies and they're all natural
#Chunkzz director #Omar should learn how to use humour
Malayalam review
#VarnyathilAashanka
Good One
Socially Relevant Theme
Decent Script & Gud Direction
Realistic & Engaging Screenplay
Perfect Casting
3/5
BMS user
This movie was simply superb; right from the beginning till end was really interesting.. This would have been a masterpiece if it was more punching towards the end of the movie.. I would say this movie is as good as thondimuthal..! Simple narration with real good humour back up..Siddarth, u didnt disappoint.. But as I said, if the movie had a more punching climax portion, that would have made this movie a great watch ! Nevertheless , this is indeed a real good movie worth spending your time and money! All the lead actors just rocked! Friends, this is not a paid review.. I am spending my time to type this because , this is the least I can do for this movie.. These kind of movies should be a success..
Watch the trailer of Varnyathil Aashanka here: