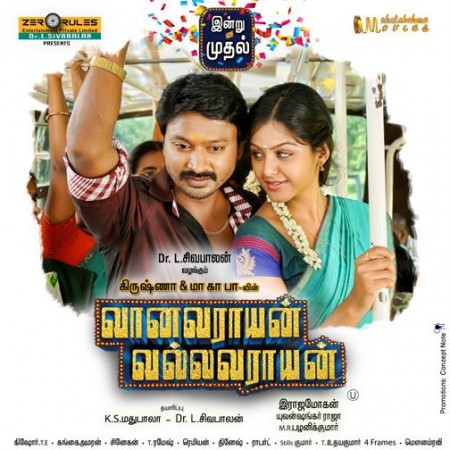 "Vanavarayan Vallavarayan" has got mixed reviews from the critics.
The film, directed by Raja Mohan, is about two brothers played by Kreshna and Ma Ka Pa Anand of "Athu Ithu Ethu" fame.
Vaanu (Kreshna) and Vallu (Ma Ka Pa Anand) belong to a wealthy family and lead a happy life. They are jobless and roam around their town doing mischievous acts. They behave as arch rivals, who really care for each other. What happens when Vaanu falls in love with Anjali (Monal Gajjar) forms the crux of the story.
Check below the review roundup of "Vanavarayan Vallavarayan"
"Director Rajamohan has packaged the film well with some appreciable scenes and dialogues, but his mind seems to be still lingering in the olden days. We have outgrown the age for these types of films as they don't excite us anymore," said Siddarth Srinivas of Cinemalead.
"Vanavarayan Vallavarayan might appeal to the B and C center audiences who have a liking for family drama. Otherwise, this is just a TV serial on the big screen," he said.
"VV's recipe is clearly targeted at the rural masses and the cocktail of comedy, familial tiffs and sentiments ought to work with this target group. The male leads, Kreshna and Ma Ka Pa Anand are energetic and perform without inhibitions, with the latter's famed timing at comedy coming in handy on quite a few instances," according to Behindwoods Review Board.
"With positives and areas of improvement in almost equal proportion, 'Vanavarayan Vallavarayan' is a different movie experience; it may not entirely explain the VV brothers, but will definitely get you thinking about your lovely rival back at home, and is definitely worth a watch," according to Indiaglitz.
"While the film starts off with lewd jokes to establish Kreshna and Ma Ka Pa Anand's camaraderie, it suddenly shifts gears before the interval with overtly melodramatic scenes. What makes the film unstimulating is the disconnected scenes, emotions and characters," according to OnlyKollywood.
"Kreshna and Ma Ka Pa Anand become butt of jokes in one scene and suddenly we are subjected to an upsurge of emotions in the next scene. This contradicting nature in the narration with a half-hearted writing is what makes the film a least interesting fare," the website stated.
Verdict: Might Appeal for the Rural Masses