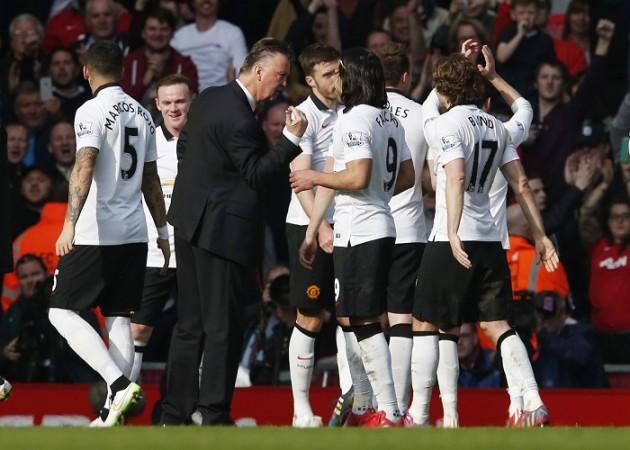 Manchester United boss Louis van Gaal is confident that his side will be able to do well against their rivals Manchester City in Sunday's English Premier League derby now that they have become a much better team than they were at the beginning of the season.
The Manchester derby has become a one-sided affair of late, with City beating United five times in the last six meetings.
Although City were able to record a narrow 1-0 win over United during the two sides' clash at the Etihad in November, they will have a much tougher time at Old Trafford on Sunday owing to the Red Devils' current form.
United's 3-1 victory over Aston Villa on Saturday was their fifth straight win in the Premier League following their unexpected defeat to Swansea City on 21 February.
And van Gaal admits that they have become a much better team. "It was another Manchester United [then]," Van Gaal told the Manchester Evening News. "Now we have developed the team.
"That was more in the start of the process and now we are in the end of the process so I think also the confidence of our players is very high at the moment. But also our performances show that, so it's not the same Manchester United."
Manchester United and Arsenal moved ahead of City following their wins in their respective Premier League fixtures this weekend.
Although City are expected to beat Crystal Palace on Monday and regain second position in the Premier League, van Gaal insists that the Red Devils' current form may have a psychological impact on both the sides ahead of Sunday's derby.
"Of course it plays a part in the spirit of the players - of our opponents also," added the former Barcelona boss. "But also our players. We have more confidence now and [if] they [Manchester City] lose a point against - I believe Crystal Palace - then it's also sitting in the minds.
"So maybe it plays a role, but that is dependable of the individual player and I don't know the individual players of Manchester City so well, so I cannot judge. But we have a lot of confidence and we have not lost so many times at home."