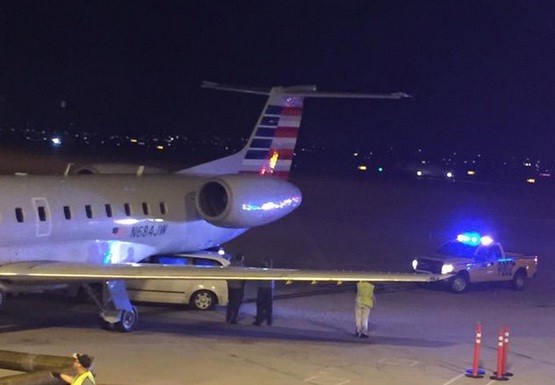 A catering van crashed into a passenger plane at the Dallas/Fort Worth International Airport on Friday.
Passengers were on board the Express Jet flight 2686 when the van crashed into the rear of the plane.
However, no injuries were reported and the passengers were safely evacuated, according to NBC News.
The accident occurred at about 9 pm local time when the plane was parked before its departure.
The flight, which was to fly from Dallas to Fort Walton Beach in Florida, was reportedly cancelled following the incident.
The van was authorised to be on the airport tarmac, some journalists tweeted.
Plane vs Van: This is AA flight 2686 to Ft. Walton Beach, FL, per @AmericanAir Flight canceled (Pic: @conphm7171) pic.twitter.com/1Yr8B1xDtj

— Ben Russell (@BenRussellNBC5) June 13, 2015
Van is authorized to be on @dfwairport Tarmac, per @AmericanAir No injuries @NBCDFW (Photo: @kirkwakefield) pic.twitter.com/uyP1yOTEFu — Ben Russell (@BenRussellNBC5) June 13, 2015