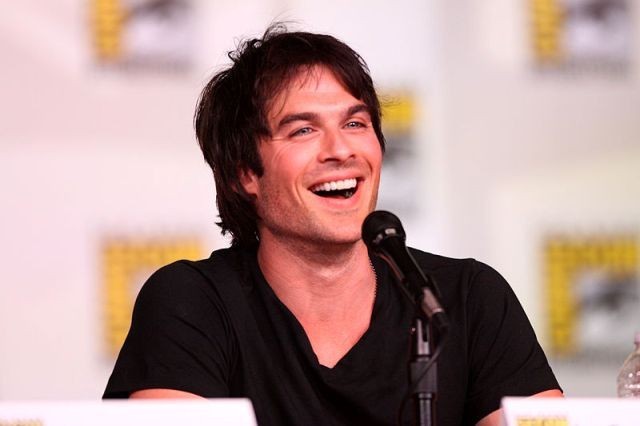 "The Vampire Diaries" stars Ian Somerhalder and his on-again, off-again girlfriend Nina Dobrev, who play Elena and Damon in the series, are reportedly giving their relationship yet another go. But the duo is not ready to make their relationship public as they are yet to work out a few kinks, reports said.
One major hurdle, according to HollywoodLife, is Somerhalder's roving eye. Although Dobrev is ready for a committed relationship, Somerhalder is not ready to give up his bachelor ways, the report added.
"Ian's wandering eye makes it hard for her to take a relationship seriously," a source told HollywoodLife. "She likes him more than he likes her but he wants the bachelor life now that he can take advantage of it."
Dobrev and Somerhalder started dating soon after meeting on the sets of "The Vampire Diaries" in 2009. They called it quits after nearly three years, but that did not stopped gossip websites from reporting that the former couple often hooks up with each other.
The actors' constant flirting on social networking sites such as Twitter and Instagram have only aided the link up rumors.
"If you're with someone for that long, there's obviously the qualities in them that you enjoy and that doesn't change just because you're not together anymore," Dobrev earlier said about them being cordial post their break up, according to E! Online. "I have an enormous amount of respect and love for him and everyone. That doesn't change, it shouldn't, otherwise why were you with them?"
Recently, a Celeb Dirty Laundry report even suggested that Somerhalder is gearing up to propose to Dobrev, as he is ready to settle down and start a family. The website stated that the alleged love birds are planning a summer vacation to Europe so as to avoid the constant media attention on their relationship back home in the U.S.
The report also suggested that the couple is headed to Bulgaria, as "The Vampire Diaries" isn't as popular in Europe as it is in the U.S., and the couple would be allowed to travel freely without the media hounding them.
However, the stars have not responded to these rumors.