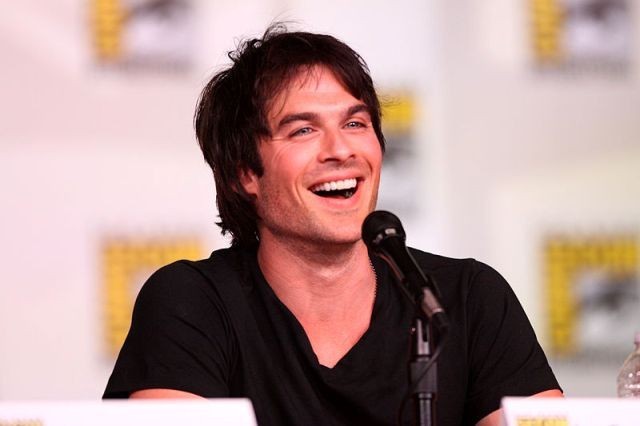 The relationship of "The Vampire Diaries" stars Ian Somerhalder and Nina Dobrev has provided plenty of fodder for the media, and although they broke up several months back, the couple continues to grab headlines on a weekly basis.
Since they broke up in May 2013, a number of reports have come out claiming that the couple is back together. And although they were all proved to be false, romance rumors have refused to die down.
Now, a Celeb Dirty Laundry report claims that Somerhalder and Dobrev are dating on a trial basis in a bid to see if they were compatible. Reportedly, it was Dobrev's mother who got them back together, as she wanted the two to give their relationship yet another shot.
Since the couple's split, Dobrev has been associated with a number of celebrities such as Zachary Levi, James Marsden, Michael Trevino and Dominic Howard, and her mother feels that Dobrev's reputation is being tarnished, the report noted.
Dobrev's mother, Michaela Constantine, is a fan of Somerhalder's work, and in the lead up to the actor's testimony to Congress for the cause of protecting endangered species recently, Constantine was constantly tweeting about the same on her Twitter account.
In recent times, there have been conflicting reports regarding Somerhalder and Dobrev's relationship. While one report claims that Somerhalder has expressed a desire to settle down, another report claims that Dobrev is the one pushing for a reconciliation.
"Ian is Jealous of Nina's new boyfriend, but there's unfortunately not much he can do about. It's her life and her choice, and she's made it very clear to Ian that she's not interested in settling down," a source told Movie Pilot.
Neither Dobrev not Somerhalder have confirmed what went wrong in their relationship, but many believe it was because the actors had different ideas regarding their immediate future.
"He was starting to talk marriage and she is just getting started on her career," a source close to the actress told Life & Style last year.
"She loves him, and they still talk every day, but she is just not ready to make that huge commitment yet," the insider revealed, adding, "Maybe in 10 years."
The pair met on the sets of "The Vampire Diaries" in 2009, and split after dating for three years.