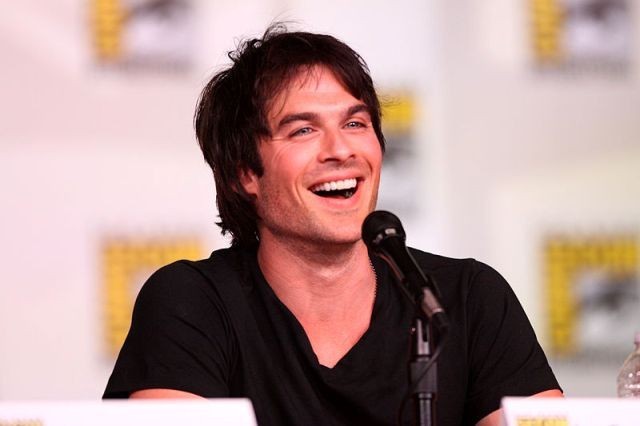 "The Vampire Diaries" star Ian Somerhalder is a tireless advocate for animal rights issues and the environment, and on Tuesday, when he testified in front of the Congress for the cause of protecting endangered species, he had a strong supporter in Nina Dobrev's mother, Michaela Constantine.
In the lead-up to Somerhalder's big moment, Dobrev's mother took to Twitter to share with her followers the details of where to watch his testimony live.
Later, she retweeted a message that said "World Is Proud Of You Ian."
Ian will be testifying in front of Congress at 2p.m.EST. He'll tweet the streaming info, as soon as he gets it, so stay tuned

— Paint A World (@paintaworld) June 24, 2014
@iansomerhalder Look what we got from @whynotnian: "@paintaworld here's the link to watch ian this afternoon ;) http://t.co/HabMBFfswj" — Paint A World (@paintaworld) June 24, 2014
However, Dobrev, Somerhalder's on-again, off-again girlfriend who plays Elena on "The Vampire Diaries," does not seem to be as invested in Somerhalder's life as her mother. While her mother was promoting Somerhalder's testimony, Dobrev was busy uploading pictures of herself on vacation, online.
It is not immediately known if Dobrev and Somerhalder are once again an item, but recent reports hint that Somerhalder has expressed a desire to get back together after Dobrev was linked to Dominic Howard.
"Ian is Jealous of Nina's new boyfriend, but there's unfortunately not much he can do about. It's her life and her choice, and she's made it very clear to Ian that she's not interested in settling down," a source told Movie Pilot.
In the meantime, Somerhalder, who plays Damon in the vampire series, is using his popularity to push for causes he believes in, and on Tuesday, his testimony was regarding the U.S. Fish and Wildlife Service's plan to implement a ban on the commercial trade in elephant ivory and the consequences of that policy.
Somerhalder credits his homestate of Louisiana for helping him understand and work for such causes.
"Being surrounded by the pure and genuine energy of animals allows a person to understand the necessity and brilliance of compassion—a key element that could truly inspire positive shifts for many of the world's problems," told the Humane Society. "And being from a state like Louisiana, especially the Gulf Coast area, where it's an extremely delicate ecosystem, you also have a deeper understanding of wild animals and the environment as well, because you realize how fragile that balance is."
This led to the launch of the Ian Somerhalder Foundation in 2010, which has been promoting various environmental causes.