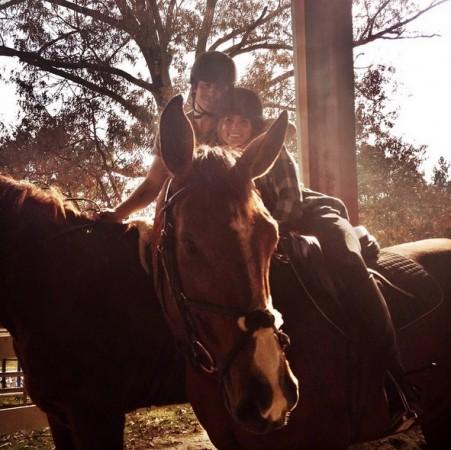 Ian Somerhalder's relationship with Nikki Reed is heating up, and the evidence is the actor's latest Instagram photograph.
On 28 October, "The Vampire Diaries" actor took to the photo-sharing site to upload a photograph of himself and Reed on horseback, and captioned it with a beautiful message on how much he loved spending the day with her.
"A beautiful perfect Georgia afternoon decompressing from work with our big boy Eagle (who opted out of this photo), our little girl Millie (who you all haven't seen yet but here she is) & the one and only @iamnikkireed photographed by my lovely sista Kat Graham aka @katgrahampics The simple beauty of the quiet countryside loving on my kids with these amazing women…Wow, love this. Needed this. So many amazing things happening with all of the projects in my life-thank you for so much love and support. Thank you," Somerhalder wrote.
As previously reported, Reed has been banned from the Atlanta set of "The Vampire Diaries" because the new couple has been finding it difficult to tone down their public display of affection, which in turn has been making Somerhalder's former girlfriend Nina Dobrev uncomfortable.
The pair, who met on the sets of "The Vampire Diaries" in 2009, dated for more than three years before calling it quits.
Producers are reportedly worried that Dobrev will quit the show because of Reed and Somerhalder. "Ian and Nikki's relationship is causing a lot of drama, to the point where the producers have asked Ian not to bring Nikki to set when Nina is there because they are very worried about losing her. They worry that the show would fall apart without her," a source told HollywoodLife.
Meanwhile, hours after Somerhalder posted the picture of himself with Reed, Dobrev too took to her Instagram account to post a quote about embracing change and moving on in life.
Is she hinting her departure from "The Vampire Diaries," or does it have something to do with finally moving on from her failed relationship with Somerhalder?
Only time will tell. But a majority of "The Vampire Diaries" fans would be devastated to see Dobrev go, and based on Twitter chatter, many are still hoping for Dobrev and Somerhalder to reunite sometime in future.