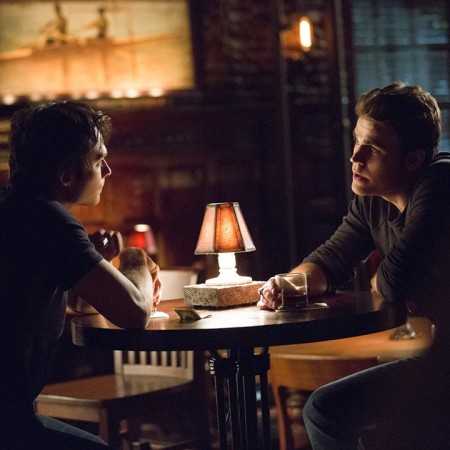 The trailer for the upcoming season of "The Vampire Diaries" is out, and it shows Damon talking about the beginning of the end.
"This is the beginning of the end," Damon tells his younger brother Stefan in the first official promo. "I've seen how this ends. Humanity can't save me from it. Once the devil comes a-callin', you're done."
Although Stefan asks the eldest Salvatore brother what was in that vault, he does not reveal anything. But showrunner Julie Plec revealed that there's a reason why Damon has turned dark, and he wasn't doing sinister things just for his perverse pleasure.
"This dark turn is different [from previous ones] because of the reason why Damon is dark, and how he feels about where he is in his life," Plec told TVLine. "This isn't the Damon who's in it for the thrill and the wicked perverse pleasure; he's doing this for a reason."
Meanwhile, the final season will see a number of characters returning to Mystic Falls and one such person is Tyler, whose previous encounters with Damon haven't been that interesting. Matt Donovan, who too bid adieu to Mystic Falls in the previous season, will return and learn more about the secrets that his family tried to hide.
Another character who may grace the screens is Nina Dobrev. CW president Mark Pedowitz revealed to reporters back in August that they were trying to rope in Dobrev for its series finale so as to wrap up Elena Gilbert's storyline. Discussions were on, and chances are Dobrev, who played Elena, will honour the promise given to Plec to return when it decided to wrap up.
"There are discussions going on with Nina," Pedowitz confirmed to reporters during the Television Critics Association summer press tour. "We'd love to have Nina back. She was great for The CW. She was integral for 'The Vampire Diaries.'"
"The Vampire Diaries" returns Friday, Oct. 21 at 8 p.m. ET.