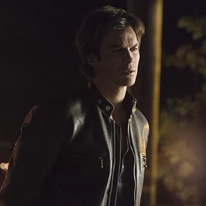 Season 7 of CW's "The Vampire Diaries" will see the gang moving on with their lives post Elena's farewell, but one person who might be having trouble letting the past go is Damon.
In the past few seasons Elena was the person who kept him in check, and now that his ladylove is no longer around, Damon has the "freedom to be messier with his choices," explained executive producer Julie Plec told TVLine about Damon's future.
She also added that fans will get to see a darker Damon, who might not think about the pros and cons of his actions.
"Actually… let us take Damon down a different road and have more fun with his character and [get back to] that season 1 Damon that everybody loved so much and that Ian Somerhalder himself loved so much," Plec told Entertainment Weekly earlier.
As for the theme of season 7, "The Vampire Diaries" creator Kevin Williamson said the show will now be about "finding family."
The previous season saw the Salvatore brothers reuniting with their mother, Lily, who was trapped in a prison world along with a group of witch-vampire hybrids known as the heretics. They are expected to be the main villains of season 7.
Also, the spotlight is now going to shift towards Paul Wesley's Stefan, who had taken a backseat in the previous season. But season 7 is expected to see Stefan playing an active role in preventing the heretics, and their mother, from wrecking the lives of their loved ones in Mystic Falls.
"I'm really excited to see Stefan come into his own and he'll really take to the role of a hero, which will be really cool," executive producer Caroline Dries told E! Online. "He's always been a hero but I think in a broader sense he'll become more heroic next season."
"The Vampire Diaries" will return to CW this fall.