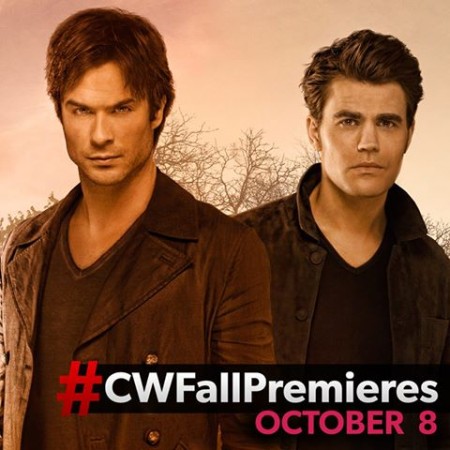 In addition to Mama Salvatore's heretic friends, the seventh season of The CW's "The Vampire Diaries" will see more young vampires descending into Mystic Falls.
And one of them, a 20-something named Valerie, could be Alaric's next love interest. TVLine has described her as someone who uses her dry sense of humour to deal with pain and dismissal. "She'll encounter someone who helps her remember the happier, free spirit she once was — and she'll do whatever it takes to keep him in her life," the website noted.
It seems like Valerie will find love with one of the eligible Mystic Falls bachelors, which include Alaric, Matt and Enzo.
Alaric has had rotten luck when it comes to love. The previous season saw him losing Jo and their unborn children, and it seems unlikely that he would jump into yet another relationship soon. Matt doesn't seem to be a good match for Valerie, as he has, on more than one occasion, said how much he hated vampires and what they have done to Mystic Falls.
That leaves Enzo, who hasn't had a real storyline in a long time. Although Enzo and Valerie's personalities match, actor Michael Malarkey, who plays Enzo, had earlier hinted at the possibility of Enzo and Lily becoming an item.
"I wouldn't say straight away there's a romance [angle], but I think we've left the door open for it to go any which way. There's definitely a chemistry there that is deep-rooted," Malarkey told The Hollywood Reporter about his character's relationship with Lily Salvatore.
As for who Valerie would end up with, a number of fans believe Damon could be the lucky one. However, they also believe it won't be a romantic relationship, as Valerie is just going to be a hook-up for Damon.
"He's obviously not going to be falling in love with anyone other than Elena but that doesn't mean the writers won't show him trying to bury his pain and 'enjoy' himself like she wanted him to do. Pretending at being the old 'bad' S1 Damon like when he was waiting for Katherine? The way they recycle storylines, I could definitely picture them going there," one fan pointed out.
Season 7 of "The Vampire Diaries" will return to The CW in October.