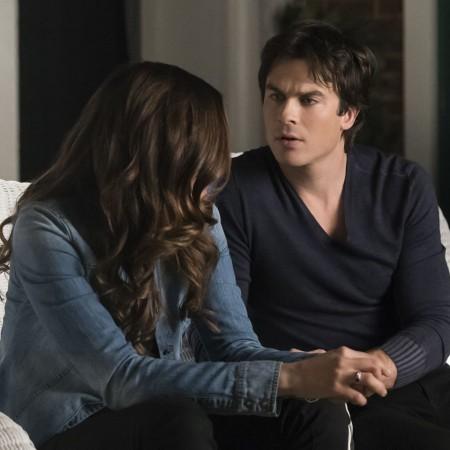 Nina Dobrev's Elena is no longer a part of season 7 of "The Vampire Diaries", but that doesn't mean Damon and the rest of her friends in Mystic Falls have forgotten her.
Ian Somerhalder, the actor who plays Damon Salvatore in the vampire drama, revealed to ET that Elena is still a part of the story even though she is safely hidden in the Salvatore crypt.
"There is a really incredible evolution of the story that is going to happen and she's still within the story," the actor revealed to ET. "She's very much present in the hearts and the mind of all the characters."
Season 6 ended with Elena saying goodbye to her friends and asking Damon to live his life the way he wanted till the sleeping spell cast on her wears off. As "The Vampire Diaries" fans know, Elena will wake up only after Bonnie dies, as Kai linked their lives in such a way that Elena will not wake up as long as Bonnie lived.
This means, Elena will be away for at least 60 years, and one question that has been plaguing everyone since the season 6 finale is whether Damon will move on with another girl in Elena's absence.
However, Somerhalder doesn't see that happening any time soon. "That is so far down the road," he said.
Talking about Damon and Elena's romance, the actor said he was still baffled at how Elena could fall in love with Damon in the first place.
"They've basically killed everyone she has ever known, she burned her house down because she was so distraught. Damon tried to kill her brother not once, but twice, and Damon is 174 and she's 18!" he exclaimed. "It is the ultimate version of cradle-robbing."
But Somerhalder is in a minority. A number of "The Vampire Diaries" fans believe Damon and Elena are the perfect couple, and this is one of the reasons why they have received numerous awards for their on-screen chemistry.
"The Vampire Diaries" season 7 episode 1 will be aired on 8 October on the CW.