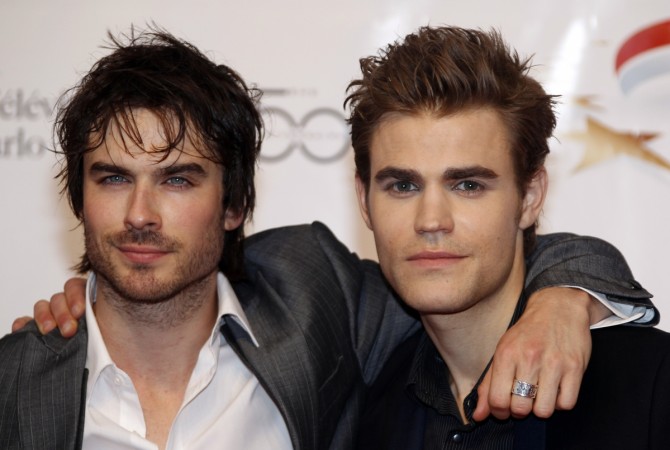 "The Vampire Diaries" Season 7 finale will air on May 13 and will provide a sense of closure to several romances that are currently dominating the show.
The season finale is titled "Gods and Monsters" and is directed by Michael A. Allowitz. According to showrunner Julie Plec, the season finale will be epic as it will forever change the lives of two of the central characters on the show. There will also be a short time-jump, but nothing like the three-year time-jump the vampire drama took after the Season 7 midseason finale.
Talking about the finale, Plec told TVGuide that the episode provides a lot of closure to the characters "that then is violently interrupted by a big shift in two of the central characters who may never be the same." Actor Paul Wesley, who plays Stefan Salvatore, one of the central characters, revealed that the events of the finale will set the tone for Season 8, which is "going to be really dark, really twisted and really fun."
As for what happens before the finale, the showrunner revealed it's all about saving Bonnie, the character essayed by Kat Graham. Damon, the character essayed by Ian Somerhalder, will do his best to get back into his best friend's good books, but a bigger threat will rear its ugly head. "The rest of the season is a race to save Bonnie, and all of the fallout that comes along with that," Plec told TVLine. "It puts everyone in grave danger, and not everyone survives it ... at least emotionally."
Before the season winds up, fans will also see Caroline and Stefan will have a confrontation and the blonde vampire isn't going to be on her best behaviour. She's "going to bring a lot of resentment and a barely contained fury directed exactly at Stefan," Plec revealed, adding that once that's out of the way, "We'll see what it is about her and Alaric that makes them work so well as a couple. She's enjoyed leaving her supernatural lifestyle behind, but she also knows she's living on borrowed time this way."
"The Vampire Diaries" airs Fridays on the CW.