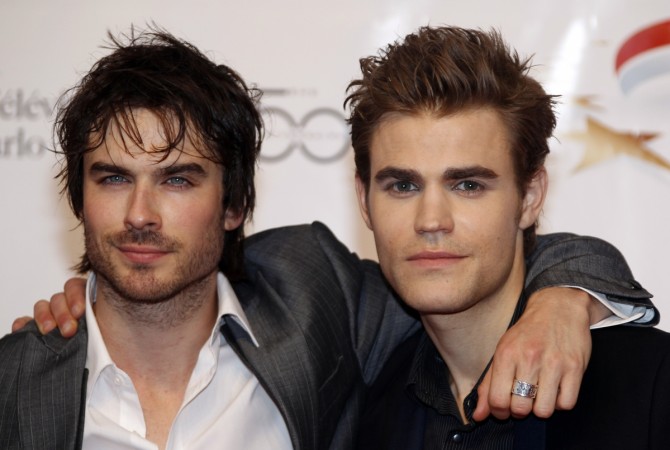 "The Vampire Diaries" has just one more episode to go before the big Season 7 finale when we'll finally learn if the gang will succeed in saving Bonnie, who turned into a vampire huntress towards the end of Friday's episode titled "Kill 'Em All."
According to the synopses for the upcoming episodes, the gang will continue their efforts to save the Bennett witch, and Ian Somerhalder's Damon will be forced to make the ultimate sacrifice to save his best friend. It remains to be seen if this "ultimate sacrifice" somehow involves Elena, the character essayed by Nina Dobrev. All through Season 7 fans saw Damon aimlessly going through the motions till Elena, who is in a magic induced coma, wakes up, and losing her completely would be the one thing that will truly devastate him.
Rumours are also rife that either Somerhalder or Paul Wesley, who plays the younger Salvatore brother Stefan, will leave the show post Season 7. Talk of their departure gained momentum after "The Vampire Diaries" Wikia posted in the Trivia section of "Gods and Monsters," the season 7 finale episode, a news item from TVLine, claiming that a series that's currently being aired will be killing off its star in its season finale.
There hasn't been any word from either Somerhalder or Wesley regarding their possible departure after Season 7.
As for what else fans can expect in the last two episodes, the summaries hint that Stefan and Caroline will reunite, albeit not in a romantic way. In "Requiem for a Dream," Stefan will make a rash decision when a new threat leaves Caroline's life in jeopardy, and in the finale titled "Gods and Monsters," the former couple will work together when they realise that the only way to truly help Bonnie will be through her and Alaric's twin daughters.
"The Vampire Diaries" airs Fridays on the CW.