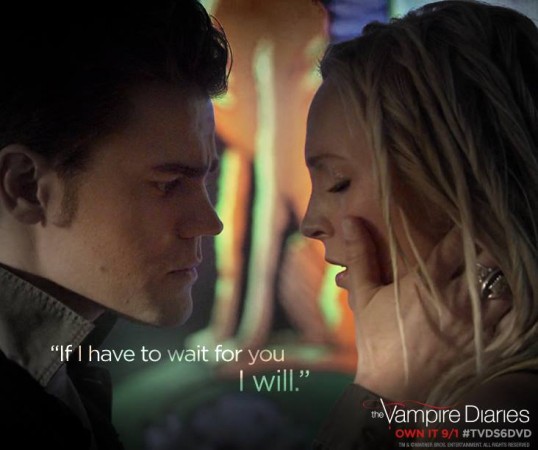 Thursday's episode of "The Vampire Diaries" is going to see Caroline forcing Stefan to meet up with his first love Valerie so that they could sort out their issues.
"I just sent my boyfriend to spend the day with his first love," Caroline says in a teaser for the upcoming episode, adding, "It would really be good for them. Clear all the 19th century drama."
Although Caroline's intentions are good, things might take a turn for the worse, for Valerie clearly has no intention of letting Stefan go. The Heretic even confesses to Stefan that she had every intention of coming back to him because she was pregnant with their child.
It is not immediately known how Stefan reacts to this shocking news, but he seems to be hesitant to share the news with Caroline. When Caroline asks her boyfriend if he wants to tell her about what Valerie said, he says there wasn't any monumental revelation.
Will Stefan's lie strain his relationship with Caroline? According to executive producer Caroline Dries, Valerie is one of the reasons for the eventual Caroline-Stefan breakup.
"Valerie is part of the reason, but it's a much bigger, more emotional, legit reason," Dries told TVLine. "It's beyond petty jealousy or Stefan cheating on Caroline or anything like that."
Stefan's almost-parenthood is "something he will be really thinking about as we move forward in the season. He'll keep thinking, 'I could have been a dad,'" Dries noted.
"The Vampire Diaries" is aired Thursdays on the CW. The official synopsis for the upcoming episode reads:
After realizing the downward spiral he was on, Damon decides he's going to turn over a new leaf and that his actions moving forward will do right by Elena. Lily prepares for the arrival of a special figure from her past, while Enzo stands by not sure what to expect. Elsewhere, at Caroline's urging, Stefan comes face-to-face with Valerie and learns some upsetting details about her past, while Enzo and Bonnie find themselves at odds when they're forced to fend off a violent threat. Finally, when Bonnie learns some disturbing information involving the Phoenix stone, she is forced to confront Alaric. Jo will also appear.