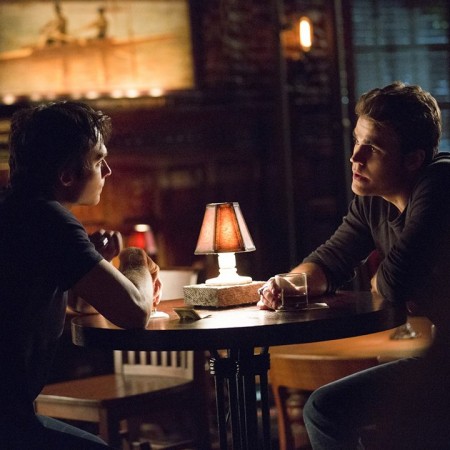 Last Thursday's episode of "The Vampire Diaries" saw Alaric and Bonnie succeeding in their attempt to bring Jo back to life, and a flash-forward showed Alaric with twin girls, hinting that Jo gives birth to their children shortly after being revived.
The next episode entitled "Live Through This" will shed light on what the future has in store for Kat Graham's Bonnie.
According to the actress, future Bonnie will be more badass. "The inspiration behind future Bonnie was sort of Helena Bonham Carter in Fight Club — a little more of a bad girl, as well as someone who's hiding a secret," Graham told TVLine. "It's very different from the other flash-forwards you'll see. Oh, and this one has the huge reveal of who I end up with!"
So who will she end up with? Spoilers indicate that it will be someone "The Vampire Diaries" fans love. But it will not be Damon.
Ian Somerhalder revealed in an earlier interview that he doesn't see a relationship between Damon and Bonnie, and hinted that the two will remain friends. Therefore, fans can rule out the eldest Salvatore brother as a potential love interest for Bonnie.
But Stefan is a possibility, considering he was no longer with Caroline in the flash forward.
Another strong candidate is Enzo. Although he currently has romantic feelings for Lily Salvatore, she doesn't reciprocate the feeling. And the upcoming episode will see Lily's one true love, Julian, returning to Mystic Falls.
That leaves Enzo with a significant other, but according to actor Michael Malarkey, his character does end up with someone familiar.
"I think people will be pretty shocked by it," Malarkey told HollywoodLife about his potential love interest. "All I'll tell you is that there was immediate chemistry. I know that those scenes that we already shot together will be f–king amazing."
"The Vampire Diaries" is aired Thursdays on the CW.