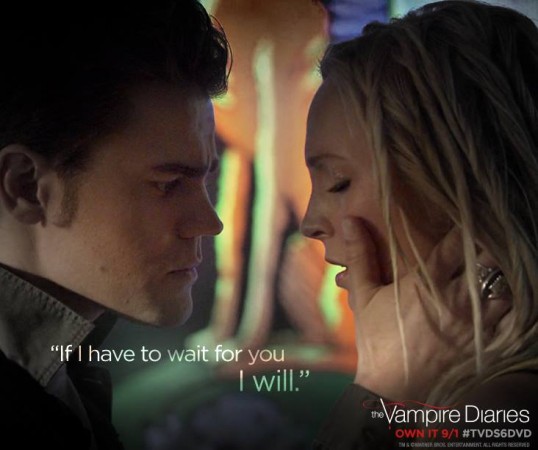 It is mission save Bonnie on this week's episode of "The Vampire Diaries" titled "Requiem for a Dream."
The episode is directed by actor Paul Wesley and will see the gang trying to bring back the old Bonnie before she tries to kill them all. As revealed in the previous episode, Rayna's decision to sacrifice herself to save Bonnie brought up a new complication no one expected. Bonnie turned into a vampire huntress shortly after Rayna's death, and one of her first targets seems to be Caroline, who will be in the thick of all the drama once again.
Friday's episode will see the blonde vampire ditching her fiance Alaric and her twin daughters in a bid to keep them away from all the supernatural drama. According to spoilers, Stefan will help her get away, but they will soon ditch their plans when Stefan realises Caroline's twins hold the key to saving Bonnie.
Caroline's interaction with Stefan isn't going to be pleasant as she's "going to bring a lot of resentment and a barely contained fury directed exactly at Stefan," executive producer Julie Plec revealed to TVLine. Once that's out of the way, "we'll see what it is about her and Alaric that makes them work so well as a couple. She's enjoyed leaving her supernatural lifestyle behind, but she also knows she's living on borrowed time this way."
The rest of the season, according to Plec, will be a race to save Bonnie and it will put everyone in danger. "And not everyone survives it ... at least emotionally," Plec teased.
The synopsis for "Requiem for a Dream" reads:
When Damon's risky attempt to save Bonnie takes an unexpected turn, the consequences of his actions forces everyone to band together to help her pull through. Meanwhile, when a new threat leaves Caroline's life in jeopardy, Stefan makes a rash decision that ultimately forces them to face the fallout from their relationship. Elsewhere, Enzo tries to hold it together as he painfully watch Bonnie in the fight of her life, while Matt takes matters into his own hands to save one of his closest friends. Alaric also appears.
"The Vampire Diaries" airs Fridays on the CW.