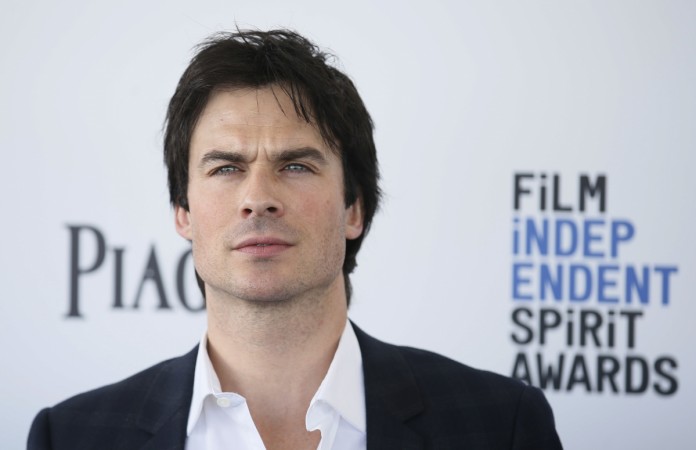 "Days of Future Past," the upcoming episode of "The Vampire Diaries" that will air April 1, is an important one for actor Ian Somerhalder, who plays Damon Salvatore in the CW vampire drama.
After exhibiting his talents as a director in Season 6's "The Downward Spiral," Somerhalder has once again moved behind the camera for Season 7 episode 16. The actor is quite excited about the episode, and Monday he posted online a photo of him fine-tuning the episode.
"Working on post production of episode 716 that I directed," Somerhalder captioned the picture. "It airs FRIDAY APRIL 1st- can watch it with me? Let me know what you think? I know that you are all very busy but we worked very hard on this episode, to tug at your heartstrings…"
According to the official synopsis for the episode, Damon learns that transferring the mark of the Phoenix sword from one person to another comes with "unexpected consequences." He will team up with Valerie to save Stefan before Rayna takes care of the younger Salvatore brother. Spoilers doing the rounds hint at Damon's plan ruining his relationship with Stefan, and Paul Wesley's character finding himself in a life or death situation.
The synopsis for the episode airing April 8, too, hints at Damon causing irreparable damage to his relationship with Stefan.
"With time working against him, he sets off on a journey of survival while forced to confront a lifetime of irreversible damage Damon has done to their relationship," the synopsis for Season 7 episode 17, "I Went to the Woods" reads. The episode will also see Matt and Valerie trying to persuade Alaric to help find Stefan.
Reaching Stefan before the others do becomes equally important to Rayna after she comes to know about the emergence of a new threat.
"The Vampire Diaries" airs Fridays on the CW.