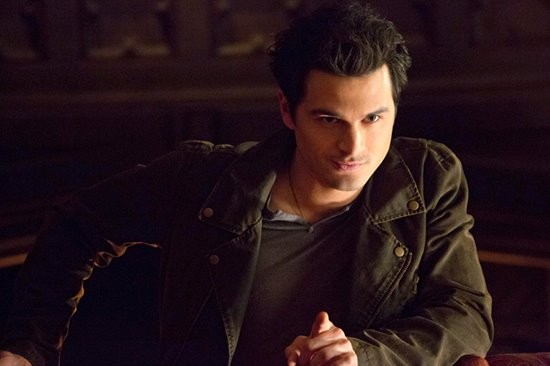 The upcoming episode of "The Vampire Diaries" will see Michael Malarkey's Enzo finally revealing details about the day he died and turned into a vampire.
Enzo was turned by Lily Salvatore, Damon and Stefan's mother who was trapped in the 1903 prison world, after meeting on the docks while Enzo was trying to secure a passage to New York.
While the next episode titled "I Could Never Love Like That" will give viewers a glimpse into Enzo's past, the seventh season of the series will focus more on Enzo's relationship with the person who turned him.
"It definitely starts off maternal in the flashbacks," Malarkey told The Hollywood Reporter. "He's very much a victim of circumstance, and she takes him under her wing. And in the present day, he's confronting her about what happened on the ship, and all that stuff. The relationship they do develop when he finds out the truth of what happens, they develop more of a kinship, as opposed to a maternal thing."
The actor added that there are chances of Enzo's relationship with Lily turning into a romantic one. "I wouldn't say straight away there's a romance [angle], but I think we've left the door open for it to go any which way. There's definitely a chemistry there that is deep-rooted."
It remains to be see how Damon, who already has his hands full with Stefan, will react to the news of his mother's budding relationship with Enzo, who has been the elder Salvatore brother's only friend since their time together at Augustine's.
And as the season moves forward, fans will see Enzo in a triangle with the Salvatore brothers and their mother, Lily. Enzo's connection to Lily will enable him to be a part of the core group of vampires, and his relationship with Sarah Salvatore will take a dramatic turn on Thursday's episode, prompting Enzo to reveal the secrets of his past.
"Enzo is still an outsider. He doesn't turn up for births, marriages, or deaths. ... But the thing with Lily is what's infiltrating him to the group," Malarkey said.
"The Vampire Diaries" airs Thursdays at 8 p.m. on The CW.