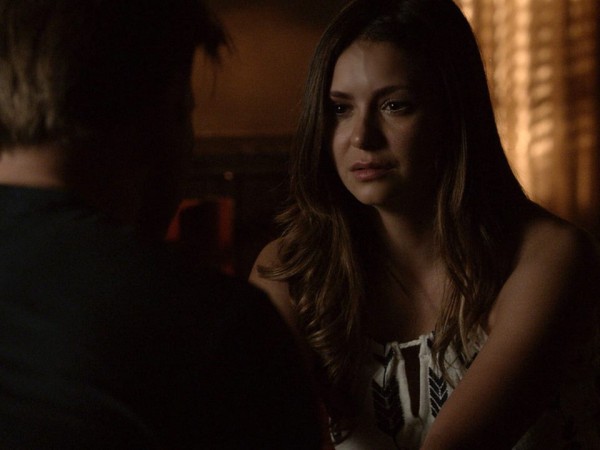 With Nina Dobrev's exit from "The Vampire Diaries" imminent, fans of the CW show are eager to see what's in store for her character Elena Gilbert.
But 9 April will not have a new episode of the vampire drama, and the next episode titled "I Could Never Love Like That" will air only on 16 April. The episode will revolve around Ian Somerhalder's character Damon trying to make his brother Stefan (Paul Wesley) flip on his humanity switch by revealing that their mother is alive.
The episode might also see Damon giving Elena the cure for vampirism and giving her an opportunity to live life as a human. As per the official synopsis, Elena will reevaluate her life as a vampire when she realises that Jo is pregnant. This might make her think of all the moments she'd be missing if she stayed a vampire.
One theory is that Damon will give Elena yet another shot at humanity and will compel her to forget about the Salvatores as well as the supernatural life she led in Mystic Falls. This will give her a chance to be a normal college student and move on with her life.
But speculations are also rife that Mama Salvatore might have a hand at killing Elena, if they decide on killing Elena in the season 6 finale.
Meanwhile, it's possible that Tyler will be yet another casualty of the season as Michael Trevino has also announced his departure from the series.
Here's the synopsis of the upcoming episode:
"With their humanity turned off, Stefan and Caroline begin wreaking havoc at Whitmore, leaving Damon to come up with a risky plan involving Lily. After rushing to help Jo treat victims of Stefan and Caroline's latest killing spree, Elena discovers Jo is pregnant, prompting her to reevaluate her own life as a vampire. Meanwhile, when Sarah boldly turns the tables on an unsuspecting Enzo, he is forced to open up about his tragic past. Lastly, at Scull Bar, a twisted round of karaoke leaves Tyler and Matt in a dangerous situation."
"The Vampire Diaries" airs Thursdays on CW.