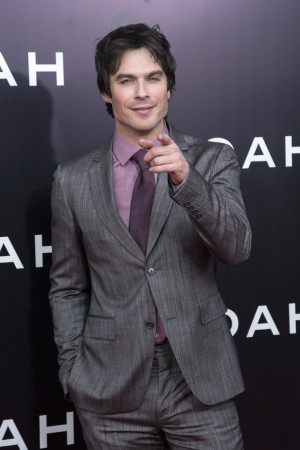 With the premiere of "The Vampire Diaries" season 6 just a few weeks away, the makers of the show have revealed an extended trailer where Damon, played by Ian Somerhalder, is seen urging Elena (Nina Dobrev) to move on in her life.
However, recent spoilers suggest that Damon will not be able to stay away from his ladylove for long and may try hard to reunite with her.
"Damon's singular goal is to get back to Elena and his brother—but that doesn't make it any easier to escape from the mysterious place that currently imprisons him," the show's executive producer Julie Pelc told E! Online.
Meanwhile, it is also being said that Alaric Saltzman might have a new girlfriend. Saltzman may take up the job of a professor and meet Jo (Jodi Lyn O'Keefe ), a doctor at the university hospital. Jo is said to be a tough girl but could be romantically linked to Saltzman.
Julie Pelc was also quoted as saying that the Other Side in "TVD" season 6 is gone for good.
"I think the ending of the episode is meant to be left up deliberately for speculation of what exactly did happen to them. I can say for certain the Other Side is gone for good, and I can say for certain that when The Other Side disappeared for good that they had already been dealt with -- whether it's through finding peace or other means. Outside of that [laughs], I think I'll let the speculation blow around a little while longer," Julie Pelc told Zap2it.
In season 6, Damon's younger brother Stefan will have hard time dealing with his brother's death and may resort to sleeping with random girls to come out of his grief. He in all probability might break-up with Caroline in the upcoming season.
It is also reported that people of Mystic falls could be terrorised by unknown force and the vampires would not be allowed to enter the town. The town might remain under the magic spell of the travellers.
"The Vampire Diaries" season 6 is slated to premiere on 2 October and it will be aired at 8 pm on CW network.
The cast of the series includes Ian Somerhalder, Nina Dobrev, Paul Wesley, Candice Accola, Kat Graham, Michael Trevino, and Jose Morgan among others. It is reported that "TVD" season 6 is going to be the last season of the series.