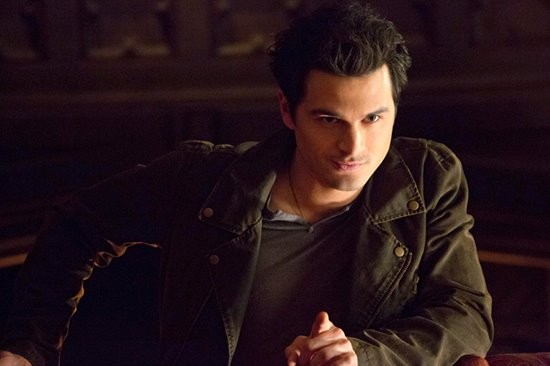 Thursday's episode of "The Vampire Diaries" will see Enzo opening up to Sarah Salvatore about his past, and chances are high she'll turn the information against him.
The last we saw of Enzo and Sarah together, he had clued her in on her real family by calling her Sarah Salvatore. And in the coming episode, Enzo will open up to Sarah about how he became a vampire, and chances are high that Mama Salvatore might have something to do with his transition.
"He ends up confiding in her the truth about his past…but then she kind of turns the tables on him, involving a pair of chopsticks. You'll find out what that's about!" actor Michael Malarkey told E!Online about his next major scene.
Although Enzo has been a part of "The Vampire Diaries" for more than a season, fans do not know much about him other than the fact that he and Damon were both captured and tortured by the Augustine Society. Enzo has been a true friend to Damon since then, even going to the extent of hurting Stefan when he decided to forget Damon, who was trapped in the prison world, and move on with his life.
Beginning of this season saw Enzo and Caroline bonding over their mutual desire to get Damon and Bonnie back from the prison world, and their sizzling chemistry had fans wishing for an Enzo-Caroline romance. But Malarkey said what the two share is more of a friendship than romance.
"I don't think he's quite ready to buckle down and commit with a relationship at the moment. The stuff he has Caroline is a great little friendship and he really cares for her, but I'm not sure his feelings extend beyond that," the actor said.
Thursday's episode of "The Vampire Diaries" is titled "I Could Never Love Like That" and the official synopsis reads: "With their humanity turned off, Stefan and Caroline begin wreaking havoc at Whitmore, leaving Damon to come up with a risky plan involving Lily. After rushing to help Jo treat victims of Stefan and Caroline's latest killing spree, Elena discovers Jo is pregnant, prompting her to reevaluate her own life as a vampire.
"Meanwhile, when Sarah boldly turns the tables on an unsuspecting Enzo, he is forced to open up about his tragic past. Lastly, at Scull Bar, a twisted round of karaoke leaves Tyler and Matt in a dangerous situation."
"The Vampire Diaries" airs Thursdays on CW.