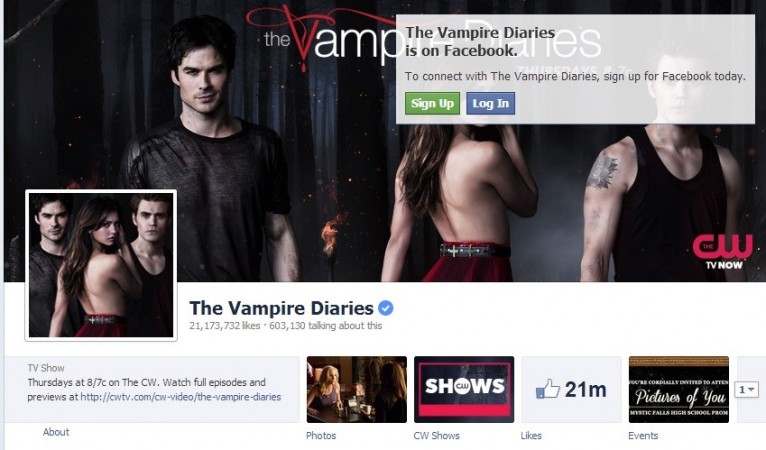 Here is some good news for "The Vampire Diaries" fans. A new tweet from the series' star Ian Somerhalder suggests that the season 6 would premiere this October.
"So... Umm, you might want to Mark those calendars! #TVD season SIX premieres Thursday, October 2! #CWfallpremieres #TVDS6 Whoa,that was fast!" the 35-year-old posted on his Twitter handle @iansomerhalder on Wednesday, June 25.
Not only that, Somerhalder's co-star Steven R McQueen, who portrays Jeremy Gilbert in "The Vampire Diaries", amped the fans anticipation by tweeting: "Just read the first two scripts of season 6. TVD fans... be excited."
Post "TVD" season 5 finale, fans cannot help but wonder about the return of Somerhalder and Kat Graham. The characters played by both actors died in season 5's last episode.
Show producer Julie Plec has confirmed in a recent interview that both actors would return in season 6 but she is not sure in what context as there are plethora of ways to bring them back.
"We will definitely see Ian Somerhalder and Kat Graham on the show. I mean, there's a million different ways that you can do that. But as far as in what context - how, why, and where? - that's part of the mystery," she told Entertainment Weekly.
In another statement to Hollywood Reporter, which could be seen as a major spoiler for season 6, Plec hinted that Bonnie (Graham) and Damon (Somerhalder) may only come in flash backs in season 6.
"Did they find peace? Are we going to be left with Damon and [Bonnie] flashbacks and hallucinations and memories for the entirety of season six? Did they find their way somewhere else, and if so, where? I can you tell that the Other Side no longer exists, so they're not there. There's no more coming back from that. It's going to be a big mystery about what happens and what our heroes can do about it, if anything," she pointed out.
Plec even implied in her EW interview that season 6 could be the second last season of "The Vampire Diaries".
"You could ask 10 different people that question and you'd get 10 different answers, in terms of how long the life of the show is. Warner Bros. would say, "17 seasons!" And I think I would say, "Seven!" [Laughs] Presumably we'll land somewhere closer to my wishes or theirs, depending on the circumstances."
Meanwhile, Graham backed Plec's statement in her interview with TV line, suggesting that she would definitely come back as Bonnie in "TVD".
"She is [back next season], but I don't know in what form or for how long," Graham said about her character's return to the website.
Graham even said that she was shocked to see the season 5 finale.
"I just as shocked as the next person. I've been on the show for five years, and I cried when I watched the finale."