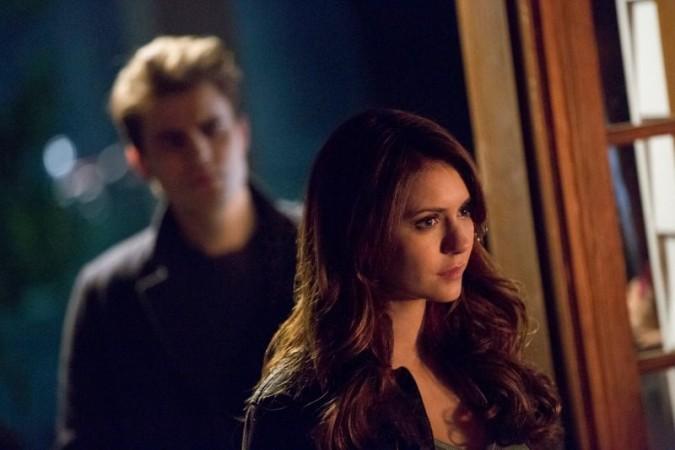 "The Vampire Diaries" returned on Thursday after a brief hiatus, and episode 14 of season 5 saw Stefan (Paul Wesley) and Elena (Nina Dobrev) hitting the road to save Damon (Ian Somerhalder), who has been infected with Dr Wes' virus.
Stefan lets Elena tag along without realising that she is Katherine, and the previous episode saw them hooking up. Will this encounter with Elena result in the return of Stefan's feelings for her?
"Katherine is doing the meanest thing she can do to a person, which is just when they get over someone and are in the first stages of healing she tears that wound open again," executive producer Caroline Dries told TV Guide.
"She's forcing Stefan to question, 'Was I an idiot for saying goodbye to Elena and walking away?' So we get into his head a little bit with the turmoil she's putting him through. But it doesn't take long for Stefan and Caroline (Candice Accola) to know that Katherine has possessed Elena's body, and they try to get her expelled with help from Matt (Zach Roerig), who is the only one who knows about the transformation," said Dries.
Liv (Penelope Mitchell), the witch who first made her appearance in "The Total Eclipse of the Heart" is set to make a comeback in the upcoming episode, which is titled "Gone Girl." Bonnie (Kat Graham) and Jeremy (Steven R. McQueen) will turn to her for help, and speculations suggest that Liv plays an important role in freeing Elena.
It is not yet sure what will happen to Katherine after she is expelled from Elena's body – either she will be gone for good, or take possession of another body. But buzz is that Katherine is going to hang around for a while longer and establish a strong relationship with her daughter Nadia.
Meanwhile, Damon is out for blood and he sets out to find Dr Wes to seek revenge. Damon, who had been going down the dark path even before getting infected, will have help from his brother, Stefan, as he battles his demons.
Stefan, who loves Damon unconditionally, will set out to find Damon, despite telling him previously to leave and never return.
There is also a strong possibility of Elena and Damon rekindling their romance.
The relationship between Tyler and Caroline is also set to improve, although it is not yet sure if they will consider taking it to the next level. For now, Tyler is working towards forgiving Caroline for sleeping with Klaus.
"Klaus represents everything that ruined Tyler's life in the past few years. So Caroline feels terrible that she's done this to Tyler, but she's also a strong woman, so she's perfectly capable of feeling bad about it without Tyler reminding her every five seconds about what she did. They still have some kinks to work out before they can even become friends," Dries told Tvline.com.
"The Vampire Diaries" Season 5, Episode 15 "Gone Girl" will air on CW on 6 March.