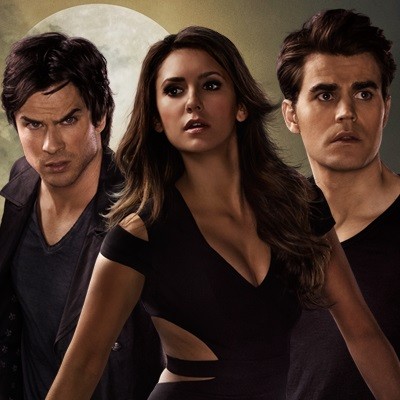 The midseason finale of "The Vampire Diaries" ended on a cliffhanger that saw Kai casting a cloak spell on Elena and trapping her just as she appeared on Damon's doorsteps for what would have been a romantic night.
The mistletoe moment between Elena and Damon, the characters essayed by Nina Dobrev and Ian Somerhalder respectively, has been highly advertised, and it won't be an exaggeration to say that a number of fans are disappointed that they didn't see the ex-lovers kiss.
Fans are also worried about the future of Delena -- the name Damon and Elena fandom have given them -- now that Elena is no longer capable of making her presence felt, thanks to Kai.
However, executive producer of the show, Caroline Dries wants fans to have faith in Delena, who she said will come face-to-face when the show returns in January.
"I can tease that we will finally see them come face-to-face soon and we'll continue to watch their relationship evolve. Their separation won't last forever. You just have to have patience," Dries told E!Online.
As for what's in store for Elena now that she has been captured by Kai, Dries said that even the young villain will have to depend on Elena now that Mystic Falls has been stripped off its anti-magic spell.
"He has a chip on his shoulder for Elena and Damon, but especially Damon having been stranded by him in the prison world. So he feels like getting at Damon via Elena is the perfect revenge. But he also has a more pointed reason for having her that he's trying to—well, I won't give that away! But having sucked up all that magic from Mystic Falls has repercussions even for him. He needs Elena's help with that," Dries said.
Meanwhile, the midseason finale episode saw Sheriff Forbes in a matchmaking mood, as she wanted to see her daughter happy before her illness took her away from her loved ones. Sheriff Forbes has glioblastoma, which could quickly spread to her brain stem, and Caroline wasn't alone when she was delivered the shocking news.
"We're going to see a human suffer a very human illness for the first time on this show," Dries said about the storyline. "It's the first time someone hasn't been taken out by something supernatural. It's going to be a challenge and Caroline [Candice Accola] is going to try to fix it and save her mom from dying and it's not going to go great.
"For our show, ironically it's the most interesting thing to play out. The show has so much to do with death and this is a new way of looking at death, where it's not something we can control or stop or have an easy fix for."