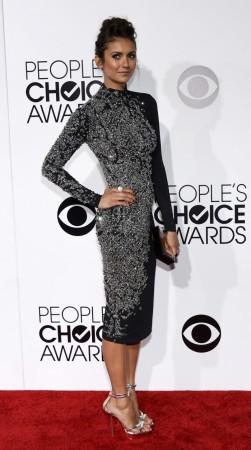 "The Vampire Diaries" actress Nina Dobrev reportedly has a new boyfriend and she is keeping him a secret for now, according to a new report.
Speculations of her being in a relationship gained momentum after she was spotted out and about with a mystery guy, reported Celeb Dirty Laundry, adding that Dobrev's decision to keep her love life a secret might be to avoid disappointing her "The Vampire Diaires" fans, who are still hoping for a reconciliation between her and Ian Somerhalder.
The report noted that it's too soon to say if Dobrev's new love interest is "a legitimate 'boyfriend', a fling, a hookup, or just some random dude that our sources saw her with," but according to her friends "Dobrev's new boyfriend is a mystery."
Could the mystery boyfriend be professional dancer Derek Hough? Dobrev and Hough were recently spotted at a Halloween party in Los Angeles, sparking rumours that the two are dating. The pair was also spotted together on 17 September at the Roosevelt Hotel in Los Angeles, and according to a source, the two were quite flirty.
"He took her and grabbed her and started dancing with her, basically throwing her around and she loved it," a source told HollywoodLife. "They were talking close and holding each other and she was laughing at everything he said, she was enamored and definitely was equally flirting with him and he was really trying to impress her."
If reports regarding Dobrev's love life is true, then this will surely disappoint a number of "The Vampire Diaries" fans, who want her back with Somerhalder. Sadly, the actor has also moved on, and is currently dating "Twilight" actress Nikki Reed.
Meanwhile, the relationship between former lovers Dobrev and Somerhalder is said to be strained after he reportedly flaunted his relationship on the sets of "The Vampire Diaries," after which Dobrev is believed to have requested producers of the show to ban Reed from the set.
Several reports even claim that producers of the vampire drama are worried that Dobrev will walk out of the show if things get uncomfortable for her.
"It's unlikely that Nina would try to get out of her contract in the middle of this season, but it's something producers are worried about. It would be very costly for Nina to get out of her contract now, but things like that have happened before, so everyone's walking on eggshells with her," a HollywoodLife source said.
"Not to the fact that Nina hasn't signed anything for anything beyond season six."