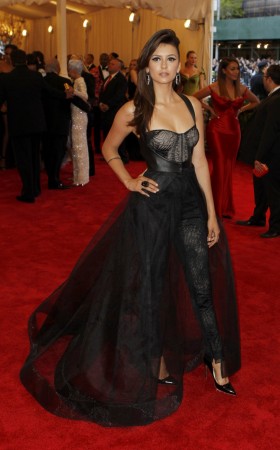 Rumours indicate that "The Vampire Diaries" actress Nina Dobrev might be getting back with her former boyfriend Derek Hough, now that her long-time boyfriend Ian Somerhalder has moved on with Nikki Reed.
The two were spotted together on 17 September at the Roosevelt Hotel in Los Angeles, and an eyewitness told HollywoodLife that they were quite flirty. Divulging more on their date night, the eyewitness said that the two did not arrive together. But Hough soon went over to the area where Dobrev was, and after a quick greeting he pulled her up for a quick dance.
"He took her and grabbed her and started dancing with her, basically throwing her around and she loved it," the source said. "They were talking close and holding each other and she was laughing at everything he said, she was enamored and definitely was equally flirting with him and he was really trying to impress her."
The couple "requested a few songs from the DJ and one of the songs was Ginuwine's "Pony" where they danced together and was very grindy with each other," the source said, adding: "Nina was having a blast and it is obvious that Ian is not on her mind at all. She acted as if she moved on 100%"
The two even reportedly left together, and from the looks of it they might be giving their relationship yet another chance.
Dobrev and Hough dated for a few weeks sometime in 2013 after being introduced to each other by the dancer's sister Julianne Hough. However, their relationship did not sustain as their busy work schedules got in the way.
"The distance was too much to handle," an insider told Us Weekly at the time. "[Nina] was hanging a lot with Derek's sister Julianne. Then she fell for him."
But Dobrev was constantly in Atlanta, GA., for the shooting of "The Vampire Diaries," and Hough was busy with "Dancing With The Stars" in Los Angeles. "He said he hasn't felt this way for a girl in a long time … Everyone approves!" the source told Us Weekly. "Julianne understands — there are no hard feelings."