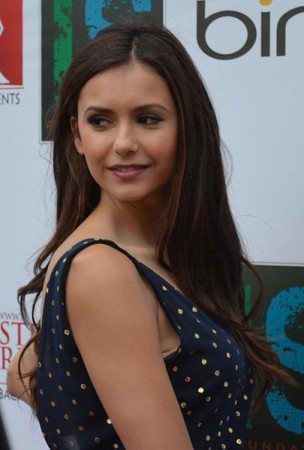 "The Vampire Diaries" actress Nina Dobrev has sparked pregnancy rumors after she was photographed with a slight bump in her belly on Sunday.
Dobrev was attending the Versace show at Paris Fashion Week, where she was snapped in a mini-dress that outlined the bump, reported Celeb Dirty Laundry.
The actress has been linked to a number of people, including Michael Trevino, James Marsden and Dominic Howard in recent times, and the report noted that this wouldn't be the first time a Hollywood actress accidently got knocked up.
However, no official confirmation has been made yet.
Interestingly, this isn't the first time Dobrev was suspected to be pregnant. Two months back, the actress caused a media frenzy, when she posted online a picture of herself with a faux belly.
The picture was taken when her evil "The Vampire Diaries" character was knocked up.
"#TBT to the 1400's when Katherine was knocked up. Wait a second ... Is that a beer belly or is @Tytheprince11 pregnant too?" Dobrev tweeted.
Interestingly, this news follows another Celeb Dirty Laundry report saying Dobrev is back with her on-again off-again boyfriend Ian Somerhalder.
Although they rekindled their relationship a few months ago, tension between them is growing due to the gap in their ages. Somerhalder, 35, is said to be ready to settle down and start a family, but the 25-year-old Dobrev feels it's too early for her, the report noted.
Dobrev has a string of celebrity fans, and she is at a place in her life when all she wants to do is party a lot, spend time with her friends, travel, according to Celeb Dirty Laundry.
However, in May, another report said it was Somerhalder's roving eyes that's posing to be a problem.
"Ian's wandering eye makes it hard for her to take a relationship seriously," a source told HollywoodLife. "She likes him more than he likes her, but he wants the bachelor life now that he can take advantage of it."
The two started dating sometime in 2009 after meeting on the sets of "The Vampire Diaries" and broke up early last year for reasons unknown to the public. Despite the break up, the two got along really well, and Dobrev said in an interview that she still loves and respects Somerhalder.
"If you're with someone for that long, there's obviously the qualities in them that you enjoy and that doesn't change just because you're not together anymore," Dobrev said about them being cordial post their break up, according to E! Online. "I have an enormous amount of respect and love for him and everyone. That doesn't change, it shouldn't, otherwise why were you with them?"